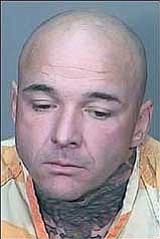 Originally Published: March 18, 2009 6 a.m.
KINGMAN - Kingman Police officers arrested two Kingman men in connection with three home invasions which occurred Sunday evening.
Chad Jarrett Weitherow, 37 of Kingman was arrested on suspicion of multiple felony charges of unlawful imprisonment, aggravated assault, armed robbery, first-degree burglary and arson of an occupied structure.
Patrick Jaye Liewer Jr, 18, of Kingman was arrested on suspicion of multiple felony charges of unlawful imprisonment, first-degree burglary, aggravated assault and flight from law enforcement.
The first home invasion call was reported at 8:15 p.m. at a home in the 3500 block of Hodges Road. The second invasion was reported at 10:45 p.m. in the 1800 block of Club Avenue.
In each case, according to KPD, several male subjects forced their way into the home, allegedly brandished weapons and assaulted the homes' occupants, while demanding money, drugs and gold.
The third invasion occurred at 3:30 a.m. on Monday in the 2500 block of Georgia Avenue. When officers arrived at the home, they found one suspect, Weitherow, barricaded inside the home.
The two occupants of the home and an infant were able to escape. The occupants of all three homes were treated for injuries at Kingman Regional Medical Center and released. KPD believes Weitherow and Liewer may have known some of the occupants.
Weitherow refused to obey police commands. After several hours of negotiating, Weitherow started a fire inside the home, police said. KPD officers and Mohave County Sheriff's deputies made entry into the home and arrested Weitherow. The Kingman Fire Department extinguished the fire.
According to KPD, the fire caused substantial damage to the home. Weitherow also damaged windows, furniture and other items in the home, according to police.
A second suspect, Liewer, was found in a vehicle in the alley behind the home. Liewer took off, leading officers on a chase down Stockton Hill Road. He was eventually captured in the 4600 block of Stockton Hill.
KPD believes Weitherow and Liewer were involved in all three of the home invasions and may have been under the influence of alcohol and/or drugs.
Other suspects are still being sought by police. The investigation is ongoing.
More like this story