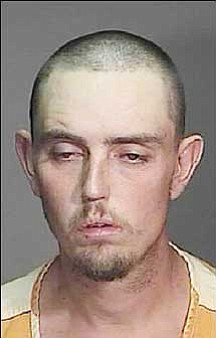 Originally Published: March 20, 2009 6 a.m.
KINGMAN - A Golden Valley man was sentenced to eight years in prison and ordered to pay more than $11,000 in restitution Thursday morning.
Larry C. Rogers, 29, accepted a plea agreement and pleaded guilty to two felony counts of theft of means of transportation and one count of theft.
On Dec. 1, Rogers stole a SUV and security camera from a car lot on Route 68 in Golden Valley. He led Mohave County Sheriff's Deputies on a short chase before being caught and placed inside a cruiser. Rogers then escaped from the cruiser and was caught again.
While awaiting arraignment in jail, Kingman Police officers connected Rogers with two other crimes in Kingman.
The first was a burglary at a business in the 3100 block of East Andy Devine Avenue on Nov. 29, when a truck and over $20,000 in mechanic's tools were stolen. That truck was recovered at the scene of the second crime, a Nov. 30 theft of a truck from a church in the 4200 block of Arnold Street. Most of the stolen tools from the first theft were found at a residence in the 1000 block of Lynette Dr.
Rogers only pleaded guilty to the Nov. 29 truck and tools theft and the theft of the SUV on Dec. 1. All other charges were dismissed.
In a letter to Judge Rick Williams, Rogers' wife asked that her husband receive drug counseling. For more than two years, Roger had managed to stay clean and support her and their 19-month-old baby. He has also been a role model to other children in the family. It was only in the last five months that he turned back to drugs, she said.
Rogers asked Williams to order drug counseling as part of his sentence.
"I apologize for wasting the court's time," Rogers said. "I have had a drug problem since I was 9 years old. I've made a lot of stupid decisions. I should have taken care of my responsibilities first."
Terry Cobb, whose tools and a customer's truck were stolen by Rogers on Nov. 29, told the court he thought eight years were not enough.
"He should have to pay for the damages to my business," he said. "He knew what he was doing at the time."
Williams said that while he understood Cobb's feelings, eight years was significant sentence for a property crime.
Williams sentenced Rogers to eight years for both counts of theft of a means of transportation and eight years for theft. The sentences will run concurrently. Rogers was given 109 days credit for time served. Rogers will pay more than $10,000 in restitution to Cobb, more than $1,000 to Northwest Securities and $497 to Payless Auto Sales.
Williams also ordered that the Arizona Department of Corrections offer drug counseling for Rogers while he served his time.
More like this story