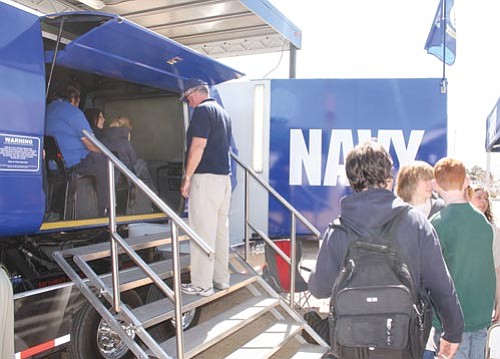 Originally Published: March 22, 2009 6 a.m.
KINGMAN - Students in Kingman got their chance to take the highway to the danger zone - without ever leaving the ground.
The opportunity came Wednesday, when the U.S. Navy's Blue Angel flight simulator stopped at Kingman Academy High School as part of the national tour.
"It really great for the kids," Recruiter-in-Charge Zachary S. Martinez said. "It gives them a chance to experience what it's like to be a pilot."
Used as a recruitment tool, students waited in line to see what it is like to be in the cockpit of the Navy's flight demonstration squadron. The simulator has been in Mohave County since last week and is heading to Florida next.
For KAHS Principal Jeff Martin, the Navy recruitment trip with simulator is another opportunity for the students to be exposed to prospects after graduation. The school has opened up the campus to other groups providing career opportunities.
"We thought it was a good experience," Martin said. "It's a good opportunity for them to come out to talk to the kids."
Nearly 75 percent of the KAHS students were able to visit the simulator, along with other students from the Kingman Academy of Learning District, Martin said.
The last time the simulator was in Kingman and Mohave County was in 2006. That year, 46 students were recruited from the county, Martinez said. Every year since then, the Navy has had more than 40 recruits from the county.
Martinez is based out of Bullhead City, though he makes the trip to Kingman twice a week.
"Right now, the way the economy is, the Navy and the government are still providing benefits," Martinez said. "The Navy is still hiring while other people are firing."
Martinez said anyone interested in joining the Navy should contact the recruiting station in Bullhead City at (928) 763-9211.
More like this story