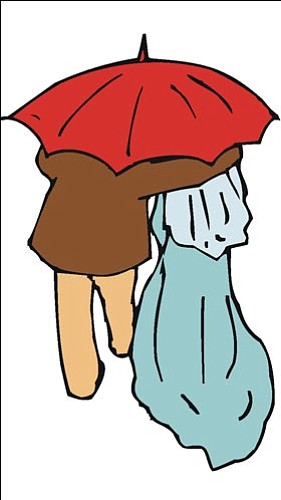 Originally Published: March 22, 2009 6 a.m.
Recently, my wife and I celebrated our 42nd Wedding Anniversary. When our friends found out how long we had been married, they asked that inevitable question: How did we do it? What was the secret. I hated to disappoint them, but I had only one answer: I have no idea. Truth was, I had never thought about it.
Many years ago, there was a song that went along the lines of "I found my million dollar baby in a five- and 10-cent store." Although there were some five- and 10-cent stores in town, I met my wife to be, Geni, in a discount department store. I was working in the sporting goods section, and one afternoon I was approached by a girl just over 4 feet tall with a noticeably dour look on her face. After looking me over, up and down, she said, "My mother told me I was supposed to meet you."
I was dumbfounded, and then I remembered that her mother worked over in the house wares department. We had talked while on break and she had mentioned that she had a daughter, and that sometime she would like me to meet her.
I managed to regain my composure and expressed delight in meeting her. It seemed obvious that she would prefer a visit to the dentist than to meet me. It is amazing that anything ever came from that brief encounter. Neither of us was very impressed with the other. She saw me as a tall, skinny guy, and not very handsome at that. Even though I thought she was kinda cute, she just wasn't the kind of girl I was interested in.
A few days later, my brother invited me to a barbecue at his home and suggested I bring a date. I thought this might be fun but could not find a date. The girls I thought interesting were not interested in me. As I pondered the problem, I remembered that girl from the store, and asked her mother for her address and phone number.
It was our first date (if you want to call it that). My brother and some of the other guests seemed to be enjoying themselves. It wasn't a great party. Neither of us knew any of the other guests, and with no one to talk to but each other, I elected to escape as soon as I could make a gracious exit. Shortly after we finished eating, I made my apologies, said goodbye to our host, and took her home.
It was not until sometime later that I learned that she was just shy. I was amazed when I realized the amount of determination on her part to come in the store. She told me later that her first impulse on seeing me was to bolt and run. (She never expanded on that, and I never asked.)
We began seeing each other, usually meeting for lunch. Then one day she told me that her family was going deer hunting and would I like to join them. I was ecstatic. For years I had dreamed of going deer hunting. I didn't even mind that her family was going. I was, and that was all that really mattered. I borrowed a rifle from my older brother; put a couple of blankets in the old sleeping bag I had received for Christmas many years ago, and threw everything in the trunk of my old Chevrolet.
Geni and her family were sleeping in a travel trailer. I was invited to sleep in the bed of a truck one of the hunters had driven. I accepted, believing that it was better than sleeping out in the open on the ground.
It got cold that first night. I tried everything to keep warm. I had forgotten that my sleeping bag had as much cotton stuffing as would fill four bottles of aspirin. I tried folding it in half, and curling up in a ball. I found an old piece of canvas in the truck and pulled that over me.
Nothing was more wonderful than seeing morning come and discovering that someone had already built a fire.
I never got a deer, but I had a good time.
We began to see each other more often. I would usually pick her up in the evening after I got off work, and we would go somewhere and watch a movie. This entailed parking on a hill behind a drive-in theater and watching the movie through a pair of binoculars. It wasn't much, but it was about all I could afford at the time. Sometimes we would sneak in after the first showing had ended and they had closed the ticket booth.
One night while parked on this hill watching the movie down below, I popped the question. Apparently, I had caught her totally by surprise. "I don't know, I'll have to think about it" was her reply. "You have ten seconds," I countered. To my surprise, she said yes.
At that point I began to have second thoughts. To this day I am not sure I was serious about the proposal, but one thing is certain - she was serious about her acceptance. A few weeks later, on Dec. 2, we were married.
After about 20 years, when I was asked the secret of being married, I would quip, "It was for the kids. Neither of us wanted them." This would invariably produce a chuckle. It may have been funny, but it wasn't the truth. We had great kids, and I think the world of them.
Our marriage was never easy. We never had much money, and it was a challenge trying to make it from one payday to the next. There were things we would do to offset the hard times. One of them was to go out for a cup of coffee. We might sit for two or three hours, just talking, dreaming and making plans for what we would like to do someday.
It is from this that I discovered one of the key ingredients for a lasting marriage. It's just being friends. You don't have to always be doing something. Often, as friends do, we would just hang out together. We might walk around town or go for a drive and listen to the radio. About all we ever had money for was a couple gallons of gas or a cup of coffee.
Another was to accept each for what we were. We both have our faults and shortcomings, and trying to get the other to change only causes friction. I'm a dreamer and always chasing rainbows. This has never improved our financial situation much, but it was always exciting to try.
Geni never complained (or so it seemed) and followed me as we moved to Texas and Nevada, then back to Utah where we had friends and family, then back to Nevada and finally to Arizona.
We've gone through 42 years together. We've made mistakes, made bad decisions, but somehow always came through them. Once in a while we would do something crazy, like the time we went to Elko, Nev., for our 5th anniversary.
I don't remember whose idea it was, but we decided to get married. This was the result of a conversation where it was mentioned that a marriage license, like a driver's license, had to be renewed every five years.
Apparently, we were not alone in thinking this. There was a long line at the window of the license office. It cost us $15 for the license and $10 for the judge to perform the ceremony. It was silly, but still a lot of fun. It was a great second honeymoon.
What we did, we did together. Looking back, I would say that the secret for our success was not that she's just my wife; she is also my best friend.