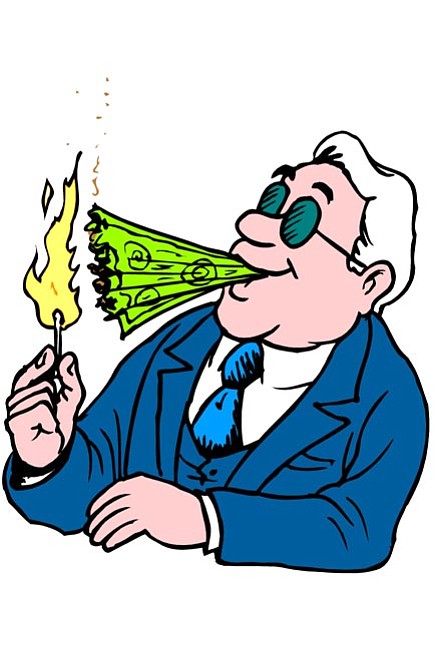 Originally Published: March 29, 2009 6 a.m.
KINGMAN - It's no Aprils Fools' Day joke. Cigarettes are going to cost more beginning Wednesday.
A federal tax increase and current state tax on tobacco products will bring the cost of a premium pack of cigarettes to nearly $8. The Arizona Smoker's Helpline is suggesting now is a good time to quit.
"Higher cost is a pretty big motivator to quit," said Stephen Michael, director of the ASHLine.
"In Arizona, a smoker will pay about $4,380 a year to smoke one and a half packs a day."
The federal tax moneys are used to fund the State Children's Health Insurance Program and gives states matching funds for family health insurance.
Utilizing its part of the tax funds, the state pays about $3.6 million each day to pay for health care for smokers in Arizona.
That's approximately $150,000 an hour.
Another portion of the state tax on tobacco that began in 1994 is used to help Arizonans quit tobacco for free.
"In essence they already paid for it, they ought to use it," said Laurie Thomas with the Bureau of Tobacco Education and Prevention under the Arizona Department of Health Services.
ASHLine provides free quit coaches by phone at (800) 556-6222 and recently launched its on-line WebQuit program at www.ashline.org. The Web site is designed to help Arizonans access tools and services to help them successfully quit tobacco and is available 24 hours a day, seven days a week.
For residents and staff at Desert Highlands Care Center, quitting time arrived last month when the facility banned smoking on the grounds.
"We're a health-care facility, so why in the world would we advocate smoking," said Activities Director Linda Shelley.
Desert Highlands lets new patients know about the ban prior to admission.
"It hasn't stopped any of the admissions. We tell people that right up front because people have the right to choose."
Shelley said more than 10 residents have given up smoking since the ban was put in place.
"Most of the people have smoked for 40 to 50 years," she said.
Resident Sidney Hausen has been smoking for more than 70 years and decided to quit cold turkey. While he said he missed smoking, he added he know it's better for his health during his remaining years.
Resident Margaret Jacobson said she also missed smoking, but didn't care about the ban because she didn't smoke that much.
Shelley organized several activities for the residents during the month to help ease the transition.
"That helped a lot," resident Jackie Cochran said.
The administration provided nicotine patches and other support to aid employees who smoke.