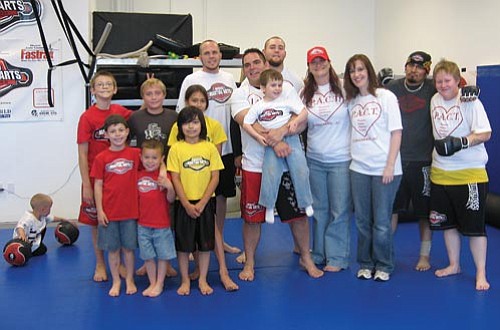 Originally Published: March 31, 2009 6 a.m.
KINGMAN - Champion Mixed Martial Arts & Fitness worked with Parenting Autism Challenges Together to raise $1,370 for Manzanita Elementary School's autism program.
On March 21, Champion Mixed Martial Arts & Fitness, 2505 Hualapai Mountain Road, hosted Knock Out Autism, the first annual fundraiser.
The event featured board breaking, mixed martial arts demonstrations and a raffle. Approximately 15 area businesses donated items to the raffle.
"We had a wonderful turnout and a lot of community support," wrote Crystal Miller in an e-mail.
Manzanita hosts PACT meetings every fourth Tuesday of the month. The group is dedicated to helping families or caregivers of individuals with autism and other neurological disorders.
On Thursday, which is Autism Awareness Day, Manzanita Preschool staff will be wearing PACT T-shirts that read "I love a child with autism."
For more information, call Miller at (928) 757-2288 or Summer Stutler at (480) 380-0282 or e-mail pact_of_kingman@yahoo.com.