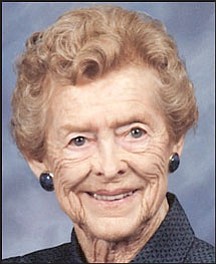 Originally Published: May 3, 2009 6 a.m.
Francis L. Davenport passed away at the age of 97 years young on April 29, 2009, at the Avalon Care Center in Bountiful, Utah. She went peacefully and was with members of her family as she took her next adventure. She lived a blessed and wonderful life.
She was born Mar. 18, 1912, in Colfax, Iowa, to parents George and Eva (Main) Kaldenberg and eventually became the middle child of seven children. The year she was born - Oreos were invented and the Titanic sank.
Francis was married to Walter G. Davenport on Mar. 21, 1934, until his death on June 18, 1976. Francis and Walter raised five children born between 1935 and 1955. She then married James H. Bromley in 1983 until his death in 1995.
Francis and Walter moved between construction jobs and different states until 1945, when with their family, four children 5 to 10 years old, they moved to Kingman. The following spring of 1946, they moved and settled in Idaho Falls, Idaho, and became dry land wheat farmers until 1973. After their farming years, she spent winters in Arizona and summers in Idaho until 1995 when she moved to Kaysville, Utah, where she lived in a senior retirement apartment (St. Mark's Gardens) with friendly, kind, and caring neighbors and near her son and daughter-in-law.
Francis had a good, happy life and made many friends. She deeply valued her family and their frequent get-togethers and reunions, the most recent family celebration being her 95th birthday in March 2007.
Francis had many hobbies in her life. As a child she learned to fish and ride horseback. Fishing at Birch Creek, Idaho, continued to be her passion until late in life. While living in Utah, Francis became an avid Utah Jazz fan. When she was 12 years old, she learned how to bake, cook, and can fruits and vegetables. And could she ever cook! Making pies, breads, and raised donuts were her favorite times in the kitchen. Her baking won awards at state and county fairs. At 95 years old, she still enjoyed making pies. She volunteered in many places and ways for churches, school cafeterias and hospitals. In her later years, she traveled throughout the world. She loved reading.
Francis was preceded in death by her husbands, four sisters and one brother. She is survived by her brother, Herman Kaldenberg; her children, Robert Davenport, Ernie Davenport, Bill Davenport, Joan Alcouffe and Don Davenport. She had 15 grandchildren and 28 great grandchildren.
A life celebration service will be held at 11 a.m. on Monday, May 4, at Westminster Presbyterian Church, 796 S. Mountain Road, Fruit Heights, Utah, with interment at 11 a.m. Tuesday, May 5, at Fielding Memorial Park in Idaho Falls, Idaho. Donations are suggested to Westminster Presbyterian Church on Francis' behalf for Sunday School Media program needs. Condolences may be sent to www.myers-mortuary.com.