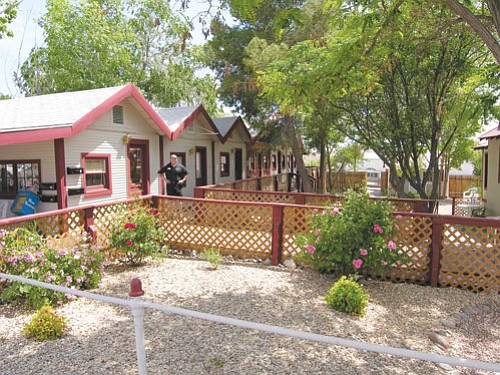 Originally Published: May 5, 2009 6 a.m.
KINGMAN - There's nothing quite like a recession to test the sustainability of a business, especially when you're an independent start-up just trying to get off the ground. But one local property owner may have found the answer, if his nine new tenants are any indication.
Those nine businesses are all part of the Beale Street Courtyard, a block of small start-ups enclosing an actual courtyard between 616 and 620 Beale St. The Courtyard's owner is Werner Fleischmann, the manager of Fleischmann AZ Investment Corp.
According to Fleischmann's personal assistant and Kingman native Vanessa Domben, the Swiss investor bought the plaza about a year ago after the former owner, DCD Real Estate, pulled out of the area. After nearly a year with no new tenants, however, Fleischmann set about renovating the existing 3,200 square feet of property and offering new businesses a lease agreement they couldn't refuse.
"The smaller buildings, we decided we'd rent them out for $250 a month, including utilities," Domben said. "We put the rent as low as we could possibly set it, and we put it on 90-day leases, just in case the businesses didn't succeed or something. We didn't want them to be locked in for a year."
That, plus the promise of new flooring and central air conditioning, was enough to fill all eight storefronts with nine new tenants in just six weeks.
"We had people standing in line to get into this place," Domben said. "It's a really cute place. We have a courtyard and a boardwalk and everything, so it's real comfortable and homey."
In fact, if you're not looking for it, it's quite easy to mistake the Beale Street Courtyard for someone's home, since the storefronts resemble apartments more than they do a traditional strip mall, and the titular courtyard is just that - a picturesque shelter of trees and flowers, complete with a birdbath. Domben said the courtyard should be more visible from the street after one of its tenants, Custom Sign and Graphics, creates new signage for the plaza.
Aside from Custom Sign and Graphics, the plaza's other current tenants include Quality Lawn Service lawn care, a Farmer's Insurance office, a Prudential Real Estate office, Outdoor Creations landscaping and Artworks Custom Frame Shop. Incoming tenants include the Gloss Hair Salon, the Trend Z Nails nail salon, and the Bliss Day Spa, which will all open by the middle of this month.
Domben said the secret to Fleischmann's success at filling the plaza so quickly is really no secret at all - at a time when large stretches of commercial real estate remain vacant, she said, the only way to entice new tenants is to price competitively. All the tenants in the Beale Street Courtyard currently pay less than $1 per square foot of space, even the Day Spa, which will occupy the plaza's largest space, 1,600 square feet, for about $850 a month.
"There are buildings all over the place that are sitting empty, and no one can afford to pay (what owners are asking)," Domben said. "If your rent is that high, then basically the business is only working to pay the rent. Nobody wants to go into business to support somebody else."
Whether other local property owners will follow Fleischmann's lead, or whether they can even afford to, remains to be seen. But for now, as long as the spirit of entrepreneurship is alive in Kingman, one plaza, at least, is bound to remain full through the recession.