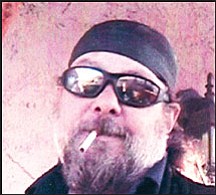 Originally Published: May 10, 2009 6 a.m.
Brian died while riding his motorcycle on Highway 68, one mile from home, when a vehicle neglected to see him oncoming when making a left turn.
Brian worked for Mother Road Harley-Davidson doing the one thing in life he loved the most - working on motorcycles. He devoted all his passion for motorcycles and riding them into his daily life through work and personal time.
He is dearly loved and held in high regard by many friends in Arizona, Spokane, Wash., and his home of Butte, Mont.
Brian is survived by his friend and life partner, Suzy Ricci; mother, Mary Gregg of Montana; his children, Kristian Gregg, 15, and Justin Gregg, 12, and Brandy whom he loved and missed with deep regret; his brother, Alan of Montana; his nephew, Cody of Montana; several relatives in Montana.
Brian was preceded in death by his father, Don Gregg.
Brian left this world as he knew he always would - by a careless motorist who didn't take the time to look.
There will be a memorial motorcycle run in Brian's honor Sunday, May 24, leaving Mad Dog's in Kingman at noon and going to the Black Cat in Seligman. For more information, contact Michael Savage at (928) 692-1575.