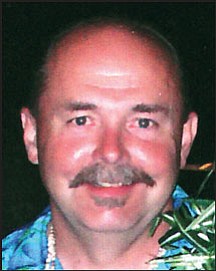 Originally Published: May 10, 2009 6 a.m.
On April 23, 2009, Dennis James Cornutt, age 56, was called home to be with his Savior, and to join many family members and friends in praising the Lord forever. He was born Dec. 9, 1952, in the Mill Hospital in Scotia, Calif., to Clifford and Sharon (White) Cornutt.
Dennis served his country in the U.S. Navy for four-and-a-half years during the Vietnam era. He then lived in the Bremerton, Wash., area and worked at the Puget Sound Naval Shipyard as an electrician and electrical planner for most of his adult life.
After being retired early in 1999, Dennis traveled with his wife, Darlene, for five years, spending many happy days at Native American Pow-Wows, Quartzsite, Ariz., and rockhounding all over the West. They settled in Kingman in 2004, where they spent their time improving the property and raising their beloved birds, "Holly Blue," "Powder," "Stumpy," and "Wallygowdie."
Dennis is survived by his loving wife, Darlene of Kingman; his father, Clifford of Mt. Shasta, Calif.; two brothers, Daniel of Eugene, Ore., and David of Portland, Ore.; three sons, Rory of Bend, Ore., Justin of Seattle, and Andrew of Lakewood, Wash.; and two daughters, Romie of Seabeck, Wash., and Paige of Port Orchard, Wash. He is also survived by two stepsons, Cris of Honolulu and Phillip of Gallup, N.M.; 13 grandchildren and many other relatives and friends who loved and will miss him greatly.
A memorial will be held for Dennis at 1 p.m. on Saturday, June 6, at College Park Baptist Church, 1990 Jagerson Ave., Kingman.