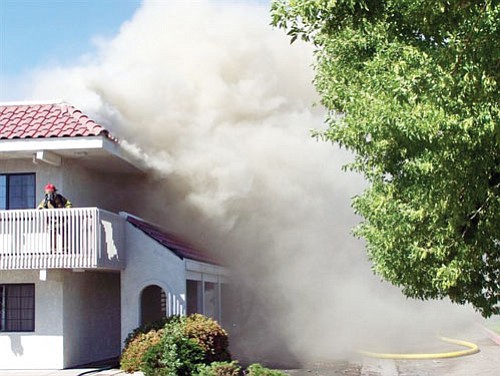 Originally Published: May 12, 2009 6 a.m.
KINGMAN - Firefighters from three local fire districts battled a Sunday morning fire that gutted 18 rooms at the Motel 6, 3351, E. Andy Devine Avenue, for nearly 12 hours.
The first crews from Kingman Fire Department arrived at 11:35 a.m. and reported heavy smoke coming from the eves of the north wing of the building. The incident commander quickly realized the severity of the fire and called in additional resources from KFD, Golden Valley Fire Department and Northern Arizona Consolidated Fire District.
More than 40 firefighters from all three departments helped in fighting the blaze along with four engines, a ladder truck and two support vehicles from KFD; two engines and a ladder truck from NACFD and an engine and support truck from GVFD. Additional off-duty firefighters were called in to man two reserve engines at KFD firehouses in case of additional fire or emergency calls.
KFD believes the fire may have started in a utility chase that ran the length of the north wing and gained access to the attic before crews could arrive.
Seven rooms were occupied on that side of the structure. The occupants of the rooms were safely evacuated. The cause of the fire is still under investigation. "It was a dangerous fire," said Battalion Chief Bill Johnston. "It was hard to control. All of the departments responded in a timely fashion."
Firefighters could be seen moving from room to room on either side of the back end of the building as smoke continued to pour from under the eaves. Firefighters pushed a special hose nozzle, which sprays water in a nearly 180-degree arc, into the ceiling of a roof overhang in an attempt to put out the fire in the attic.
Several times, firefighters had to retreat from the roof and individual rooms as parts of the roof collapsed. At 1 p.m., firefighters used an aerial truck with a hose to attack the fire on the roof. The fire appeared to be under control and on its way to going out at 1:15 p.m. Unfortunately, it flared up and continued to burn throughout the afternoon.
Despite the stubborn nature of the fire and stiff Kingman winds, firefighters were able to keep the blaze from spreading to the main wing of the hotel. Eighteen of the 26 guest and utility rooms in the north wing suffered direct damage from the fire. The remaining eight rooms suffered smoke and heat damage. It is unknown how much it will cost to repair the damage.
One firefighter was treated for smoke and heat injuries at the scene. Units remained on the scene until 11 p.m.