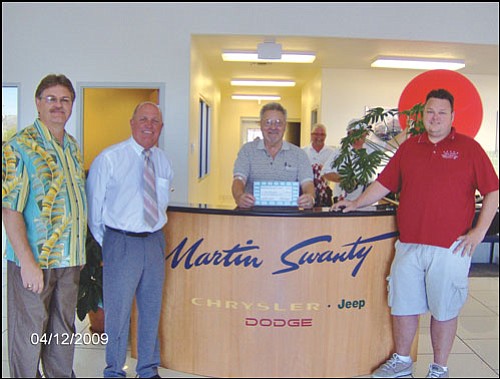 Originally Published: May 17, 2009 6 a.m.
KINGMAN - For a third consecutive summer, Martin Swanty Chrysler Dodge Jeep will be a premier sponsor for the Kingman Parks and Recreation Department's Summer Movie in the Park series held at Centennial Park on July 24.
Because of Swanty Auto Center's donation to this program, the Movie in the Park series is now entering it's fourth season. The July 24 showing will again take center stage following the conclusion of the annual Family Summer Carnival that will run from 6:30 to 8:30 p.m. The movie will start at approximately 8:45 p.m.
The city offers its thanks to Martin Swanty Chrysler Dodge Jeep for the continued support of this free community activity, said Keith Adams, Kingman Parks and Recreation superintendent.
In addition to the July 24 movie, Canyon Community Church will host a movie on June 27. UniSource Energy Services sponsors the float-in movie on Aug. 6, the same day as Mighty Mud Mania.
"Thanks to all our premier sponsors for keeping this wonderful community activity alive," Adams said.