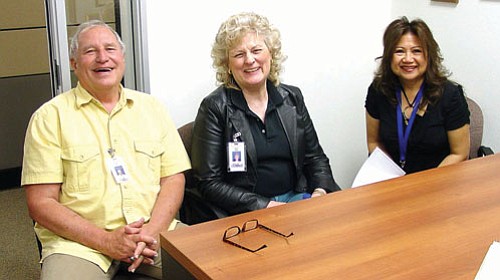 Originally Published: May 20, 2009 6 a.m.
KINGMAN - Mohave County has funds for five senior citizens who would like to return to the workplace as part-time employees.
Lynne Steiger, Title V program representative for Mohave County, said the three "clerical" and two "labor trades" positions are now posted on the Mohave County Web site at www.co.mohave.az.us.
"Our present Title V federal grant funding is enough for two employees," she said. "But with the federal stimulus money we recently received, I can hire three more seniors into part-time jobs."
The three stimulus-funded positions will continue until June 30, 2010, she said. "The regular Title V grant funded positions have longer durations, but our focus is to help people come back into the workplace, get trained and then find better, unsubsidized employment."
The Title V program assists income-eligible people age 55 and older in finding part-time jobs within non-profit agencies, Steiger said. "And, of course, veterans have a preference. We can only subsidize employment if we place the seniors within non-profit agencies, such as here at the county or at the senior centers. We work with our clients to assess their skills and, if needed, enhance their skills.
"If someone needs computer training, we can send him or her to Mohave Community College for a class," she said. "If that person needs tools or work clothes, we can help there, too. The biggest problem that seniors have in getting back into the workplace is a lack of computer skills. Every job these days involves computers. We can use some of our grant funds to help them get that training."
The Title V program is facilitated through the Mohave County One-Stop Career Center.
Two of Steiger's success stories testified on the value of the Title V program.
Bill Hargrove has been a Title V employee in several capacities with Mohave County for close to three years.
"And now we have hired Bill as a full-time office clerk in the One-Stop at $11.40 per hour," Steiger said. "He had worked with the One-Stop as a Title V representative for quite a while and also with the Treasurer's Office. But now we have him full time."
"I had retired," Hargrove said. "I came out to Mohave County as part of our retirement plan. Most of our dreams have come true. After I got here, I felt I wanted to be more productive."
For more information on Title V, call Carol Metheny at (928) 753-0723.