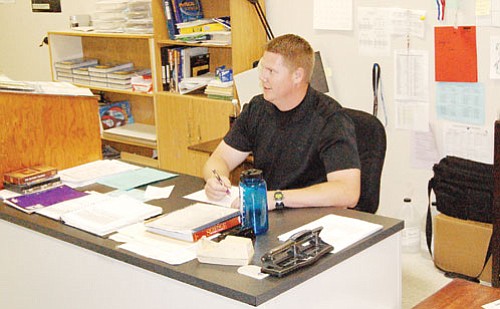 Originally Published: May 20, 2009 6 a.m.
KINGMAN - The budget crisis at Kingman Unified School District played a large role in Kingman High's announcement of Rob York being named the new football coach for the Bulldogs. KHS athletic director Tim Casson told York Monday afternoon he had been selected for the position.
"The hiring freeze did present some complications," Casson said. "We had some applicants who would have fit in with the football program, but it was difficult to find a way to hire them."
York was one of the first to apply for the position, but shortly thereafter withdrew as a consequence of the recent cuts to several teaching positions at the school. York's fiancé was one who had her job eliminated and York wasn't sure how much more time he could commit to KHS.
"Things had changed for him and he was approached and asked to consider reactivating his application," Casson said. "He said he was still interested and we decided to promote within."
Passion for the job shouldn't be an issue for York as he graduated KHS in 1999. He began teaching at KHS in 2006 and coached the junior varsity football team in 2006-07 before elevating to the varsity level last season.
"Rob will bring a lot of enthusiasm and he is familiar with the system," Casson said. "He's familiar with the school, he's familiar with the kids and knows their strengths and weaknesses. He can also put together a solid staff."
Though last year's coach Jamie Nelson was only at KHS for one season, he made a big impact on York. "I thought Jamie did an excellent job here," York said. "It was hard to see him go. His way of discipline I will model to a T. Not a lot is going to change. Jamie Nelson did a great job and the kids bought into it."
Nelson said the continuation of the things he started last year should benefit KHS with York at the helm.
"It's not a major change nor a drastic overhaul," Nelson said. "Rob has his own ideas and similarities with things that have been done, so it won't be a complete start-over two years in a row."
Nelson wasn't sure if he should be the one to judge whether York can or cannot do the job. "I don't even know if I can do it," Nelson said. "The first year is always tough and it's after the second and third years you get a better evaluation."
York is aware there will be some naysayers regarding his hiring and he said he'll do all he can to make it a success.
"My inexperience will come in, but I will put the work in," York said. "KHS did so much for me as an athlete, student and a person. I know we've been struggling and I want to give back what was given to me."