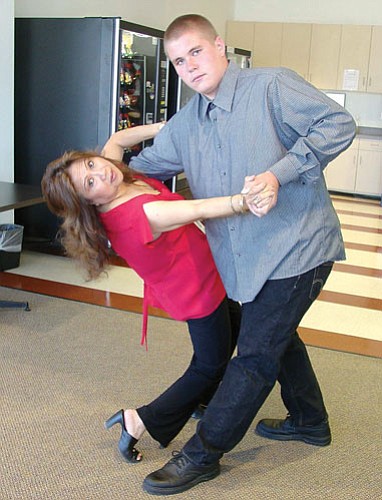 Originally Published: May 25, 2009 6 a.m.
KINGMAN - Juvenile probationers take General Educational Development classes, clear trails in Hualapai Mountain Park, help clean up illegal dumpsites and, now, they dance.
Mohave County Community Services Workforce Program Representative Lynne Steiger is working with four teens on an innovative dance program.
"This is an extraordinary group of young people," she said.
"The Probation Department contracted with the One-Stop Career Center to provide these teenagers a week of work readiness training each month."
A variety of Community Services Department personnel work with young people, some from the Juvenile Detention Facility, on computer skills, assessments and training to prepare them to enter the workforce.
"Probation expressed a desire for us to continue working with the young people," Steiger said. "They need to be kept busy to continue their progress. They already clear trails in the Hualapai Mountain Park, help clean up illegal dumpsites and remove weeds and debris at Mohave Community College. They have lots of energy.
"We give them computer training," she said, "but we also have worked to come up with some other ideas to keep them interested while teaching them social skills. These young people have a lot of excess energy. We want to use that energy and channel it into positive activity."
As a special aide in the Los Angeles area to then-California Gov. Pete Wilson, Steiger was an entertainer producer who promoted music and dance for talented youths and adults throughout the early 1990s. Many professional entertainers became part of her program that assisted the youth of the area.
Presently, she volunteers as a dance instructor after work in the Kingman area for both youths and adults.
"I love this community and my goal is to help keep young people away from drugs, gangs and negative situations," Steiger said.
"One of our students said he was called a 'minority,' a 'hoodlum' and a 'dirty Puerto Rican.' Another was called a 'no-good kid,'" she said.
"These kids have had negative labels and that has sent their self-esteem downward.
"As they learn, they are each creating their own character within the dance," she said. "One now calls himself a 'dancing Puerto Rican.' This is very positive. Their words create an act. They can dance as the characters they have created for themselves."
Initially, there were six juvenile probationers in the class; there are now four.
"Some of them showed a bit of attitude," Steiger said.
"These four made the choice to stay with the program. They have made tremendous progress. You choose which way you want to go. They chose to learn and progress.
"This is all about presentation and social skills, gaining self-esteem and throwing away all the garbage that comes from letting others label us. They are building inner strength and demonstrating character."
The four teens, Ray, Jordan, Shawn and Antwon, all seemed to enjoy the class.
"It's fun; it's something different than our day-to-day lives," Jordan said.
"They want to be good dancers," Steiger said.
"That is positive. There are many life lessons involved with this program.
"We are practicing daily," she said. "This particular dance routine will be performed at the COYOTE celebration at the end of summer. These students will wear suits and present themselves in a positive manner.
"If we can help these students, it will not only make their lives better, it will make the community as a whole better," Steiger said.
For more information on the Job Readiness workshop, call Steiger at (928) 753-0723.