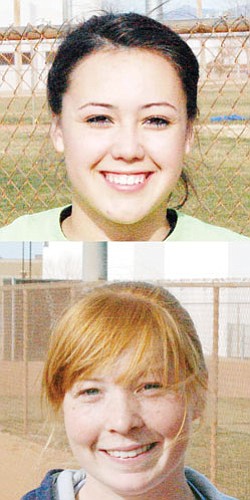 Originally Published: May 27, 2009 6 a.m.
KINGMAN - After probably one of the most frustrating seasons for Kingman High softball, the Bulldogs were still able to garner several individual awards from the Arizona Interscholastic Association Northwest Region. Outgoing coach Salina Fogg announced the region and team awards May 19.
Senior shortstop Tara Chavez and junior outfielder McKenzie Overson were named All-Region, senior Sarah Murphy and junior catcher Tesla Morgan landed on the honorable mention list, and senior Tylee Rickett earned the All-Region Academic selection with a 4.0 grade point average.
"I was actually surprised," Chavez said. "It's good to know I did something this year to help the team. It feels like I ended it on a good note."
Chavez said she was surprised because out of her four years on varsity, she felt her senior season was her worst. "I didn't expect to get anything out of it," she said. "I finished as high as I had my last three and I'm really excited about that."
Chavez had shoulder surgery the summer after her sophomore year and Fogg said Chavez had to overcome fears of diving or getting hit on the shoulder. "She has a great bat and was a constant threat to other teams," Fogg said.
It was Chavez' bat that earned her a scholarship with Glendale Community College to play softball. "Right now they are looking at me as a power hitter," Chavez said. "I think they see me as a utility player, but the main thing is going to be hitting."
Murphy was dialed in at first base for the Bulldogs and Fogg had said in the past she believed Murphy to have the best eye at the plate for the Bulldogs.
"Sarah has such a slick glove at first base. She makes the job look so easy," Fogg said. "She was very selective on the pitches she chose (to hit). She is one of the few athletes I've had that truly understood how to go to the opposite field and the importance of it."
"She really shined and had an impeccable record in the Kingman Invitational tournaments," Fogg said of Rickett. "She is a pressure player and does best when the team is leaning on her."
Morgan was named the team's Most Valuable Player and Chavez earned the Most Inspirational award. Junior second baseman Kyra Williams was selected as Most Improved.