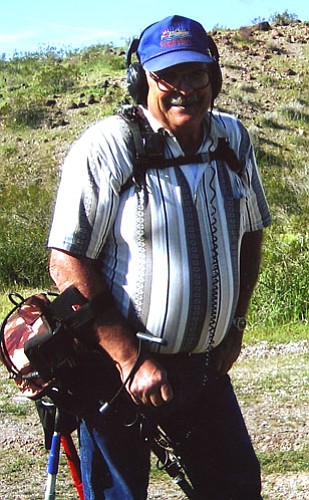 Originally Published: November 3, 2009 6 a.m.
James "Jim" Eden Smaller Sr., age 69 and 41-year resident of Kingman, died at home suddenly of heart complications on Sunday, Oct. 25, 2009.
He was born May 3, 1940, in the mining town of Gilman, Colo. He spent his childhood there and in the nearby towns of Minturn and Redcliff, Colo. He joined the Navy at age 17 and traveled to such places as Norfolk, Va., Corpus Christi, Texas, and Newfoundland. He married Sue on Sept. 16, 1961, and lived in Moab, Utah, and Leadville, Colo., where his daughter and son were born. Eventually his family made roots in Kingman in 1968.
He worked many kinds of jobs in his life, including construction with Morrison Knudsen ("The Cut") in Moab, Utah, and the Homestake Dam and Tunnel near Leadville. His passion for and knowledge of rocks began as a young boy influenced by his father, who had a lifetime mining career. Jim was a rock hound to the core. He eventually worked in a series of dangerous mines: Potash (Moab, Utah), Antler (Yucca, Ariz.), C.O.D. (north of Kingman) and San Manuel (near Tucson). After having his hip crushed in a mining accident at San Manuel, he rehabilitated as a silversmith and obtained an Associates Degree at Mohave Community College. He later enjoyed teaching lapidary classes at the community college. He and his wife ran a reputable jewelry business, J and S Gems and Jewelry, for 20 years.
He maintained many hobbies in his lifetime, including rock hounding, organizing several rock shows, building various sets of collectibles, making a "good deal," perfecting several sports from bowling (Hall of Famer) to golfing to trapping (former member of the Trapper's Association).
He had great pride and dedication in gathering food almost daily for the last seven years and sharing it with many grateful families.
He always loved a tricky game of poker, an ornery joke, finding a new rock treasure, getting his money's worth at a delicious buffet and sharing a good, long story with anyone who'd listen.
Most recently in his retirement, he was passionate about his membership in the Prospector's Club and the respect gained as a "Highly Respected Nuggetshooter Forums Veteran." Finding hidden gold nuggets or seeking "out of this world" meteorites were inspirations in his final years. Some of his favorite places were Gold Basin, Franconia and a friend's claim near the Hualapai Mountains. He was proud of his contributions toward meteorite research with the University of Arizona in Tucson, so would have thoroughly enjoyed being a part of and attending the first Arizona Meteorite Exhibition to be held in January 2010. His invitation to this exhibition to receive acknowledgement and honor for his meteorite finds was sent from the University of Arizona the morning after he died.
Jim is survived by his wife, Sue Smaller (Kingman); mother, Virginia Sinclair (Chloride); daughter, Cindy Watson (San Diego, Calif.); son, James Smaller Jr. (Weatherford, Okla.); granddaughters, Brittany and Bethany Watson (San Diego); grandson, Elijah Smaller and Elijah's mother, Jodie Smith (Kingman); brothers and sister, John, Bonnie, Tom and Bill (Colorado); stepsister, Linda; many special nieces and nephews; true friends; and ... his spoiled cat, Missy.
Jim was preceded by his father, Clarence Smaller; stepmother, Marie Smaller; stepfather, Lloyd "Fuzzy" Sinclair; in-laws, Walter and Gotha Chadwick; stepsister, Rene; and many other loved relatives and special friends.
His family can still hear him whistling and know that he's probably searching for that large meteorite he had in mind to hunt next and just knew was waiting to be found.
He stood for Honesty, Hard Work and Family. He believed laughter is a healer and would want everyone to remember his final words as "Hey, No Problem," "Piece a Cake."
The family plans to apply any donations toward a memorial bench to be placed at Centennial Park, a fun place for picnicking, people watching and a nice stroll.