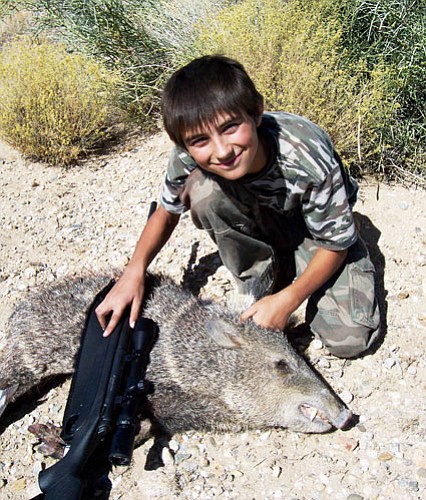 Originally Published: November 4, 2009 6 a.m.
Kingman resident Tanner Ragan is just 10-years-old and attends the Kingman Academy of Learning, but he has already shown that he is more than capable of handling the responsibilities that come with being a lawful and ethical sportsman.
Tanner has been out in the field with his grandfather, Rod Ward, since he was 5. He was given a bow, then a BB gun by his grandfather, who taught him a lot about the great outdoors and the safe use of firearms and bows and arrows.
But as might be expected, as he got older, Tanner decided he wanted to hunt big game.
The first order of business for the young man before he was allowed to hunt big game was to take an Arizona Hunter Education class.
Tanner took the local two-weekend class earlier this year and graduated near the top of his class.
He was identified by his instructors as one of the shining stars in the group.
The draw this year for big-game tags turned out good for the young man.
He drew one of the 50 tags for a Unit 16A juniors-only javelina hunt. Unit 16A is where the Hualapai Mountains are located.
Tanner and his grandfather also drew general deer tags for the Hualapais.
The gun he would be using to hunt game was a scoped-sighted Remington bolt-action rifle in .243 caliber.
Trips to the range to practice got the young hunter ready for the field and his first big-game hunting experiences.
The javelina hunt started on Oct. 9, and on the first day out, Tanner showed how all of the practice would pay off.
Hunting on the east side of the Hualapais, Tanner bagged his first javelina, a boar with one shot at a range of 178 yards.
Tanner also spotted one of the most prolific predators in Mohave County, a coyote that was running like the wind up a nearby hill.
Tanner was up to the task, however, and was able to bag the coyote with a shot at 225 yards!
Tanner has turned out to be quite the shot, and his entire family was very proud of him.
Two weeks later, Tanner and his grandfather and friends were out for the opener of the general rifle deer hunt in Unit 16A.
It started out tough, as no deer were seen in the morning.
But later in the afternoon, a group of deer were found and with them was a 2-by-1 buck.
Once more, Tanner showed his skill as a hunter when he bagged the buck with one shot at 200 yards.
Tanner obviously has a lot of natural shooting ability, and he loves the outdoors, but the time he has spent with his grandfather has served to draw this Kingman family closer together.
Hunting is a great way for families to enjoy quality time.
In this fast-paced world of iPods, video games and cell phones, seeing a grandfather who enjoys spending time in the field sharing the outdoor experience with his grandson is something that I find very refreshing.