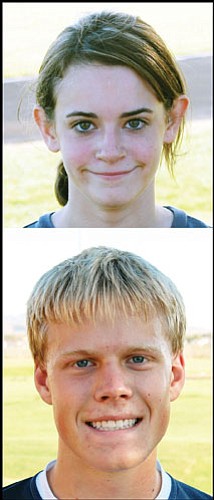 Originally Published: November 4, 2009 6 a.m.
KINGMAN - It took until the second-to-last meet of the season, but the 5A Northwest Region now knows about Kingman High's freshman cross country runner, Paige Cardiff.
Cardiff finished fourth at the region meet on the 3.1-mile course at Skunk Creek Linear Park in Phoenix Saturday when she ran a personal best of 20:44.60, and the Lady Bulldogs finished fifth in the field of eight.
"People were surprised I was there," Cardiff said. "No one expected me to finish in the top five. They were all wondering where the Bulldog girl came from."
Senior Myreel Pease was 25th, and Heather Paulsteiner (30), Teyshia Solano (37) and Megan Yellowman (42) rounded out the Bulldogs' scoring.
"I'm real proud of them," KHS coach Anne Bathauer said. "Myreel and Heather both ran good races. The team has continued to improve with every meet."
As the race approached, Cardiff had said she wanted to focus on running the second mile well, and that took its toll on a hot day in the valley.
"I almost barfed in the middle of the race - a few times actually," she said. "But I was able to beat a girl I've been chasing down this whole season."
That runner was Phoenix Goldwater's Bridgette Sotelo, and Cardiff beat her by 14 seconds.
"Paige overtook her in the second mile," Bathauer said. "Paige left it on the course."
The 5A Metro Region ran its race on the same course Friday when the temperature was about 10 degrees cooler. Valerie Segay of Phoenix Camelback won that race in 21:15, more than 30 seconds slower than Cardiff's time. This result should give Cardiff some added confidence at next Saturday's state meet in Cave Creek.
"The goal for her is go out and win the race," Bathauer said. "She now knows what to do, and I'm real excited to see what happens at state for her."
The boys team finished in a respectable fourth place, especially when considering there wasn't a senior in the top five for the Bulldogs.
Junior Jesse Peterson was the top KHS finisher in 13th place, as he covered the course in 18:00.26. David Haun was 14th in 18:04.34, and Jesus Lozoya (31), Preston Hammond (33) and Shaun Wooten (34) scored for the Bulldogs.
Both Hammond and Wooten are freshmen, and Haun is a sophomore.
"If the boys run at state like they did Saturday, they should be a top-12 team," Bathauer said. "That's pretty good because the top five will return next year."
When Glendale Mountain Ridge and Phoenix Sandra Day O'Connor joined the Northwest Region this year, the region became one of the toughest in 5A.
"Our region is one of the fastest in the state," Bathauer said. "For the boys to do this well and for Paige to have a top performance, I'm really proud of the kids. Now, we just have to maintain focus and have a good final race."