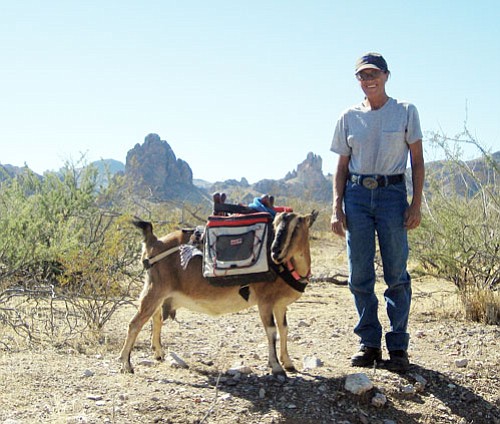 Originally Published: November 5, 2009 6 a.m.
KINGMAN - It's not unusual to see residents with horses, donkeys, dogs, chickens or maybe even sheep in Golden Valley.
Lisa and Steve Ipsen have it all, including a herd of goats.
"I've got about 30 permanent goats, but that number changes," Lisa Ipsen said. She and her husband breed the animals as well as use them for pack animals.
"They're wonderful creatures," she said. Ipsen has been raising goats since she got her first one from a neighbor in 1989. The neighbor asked Ipsen to watch her two pregnant goats while she was on vacation.
While the neighbor was gone, one of the goats had its babies, or kids. After checking to make sure the kids were okay, Ipsen ran to get her own children to show them the kids.
Her neighbor ended up giving her one.
"That was it," she said. She was hooked. Ipsen had grown up with horses and other animals but had never taken care of a goat.
She learned how to take care of and breed the animals from a handful of other Golden Valley and Kingman residents that own goats.
"It's been quite an experience," she said.
Her children also enjoyed raising goats, she said. "They were always asking if we could get one more or buy that one or 'I like the black and white one.'"
Her children are grown now, but Ipsen and her husband still enjoy saddling up the goats and taking them for a hike in the mountains surrounding Golden Valley.
"They (the goats) love it," she said. The animals jump in the back of the truck, the couple tosses in a few packsaddles and off they go.
"They're incredible animals," she said. They can carry up to 30 percent of their body weight on their backs. They're more nimble than horses or donkeys and don't stray far from the couple when they go hiking.
"Occasionally, one will lag behind to eat a bush or something," she said.
"It'll look up and realize that everyone's gone and then start hauling tail to catch up, bleating all the way."
Just like humans, goats can have different personalities, she said.
"But they all tend to be very sweet creatures. They can be kind of stubborn sometimes."
Besides being great pack animals, people use goats for milk, cheese and meat.
Like cattle, different types of goats are better for different purposes, Ipsen said. She does sell some of her goats for meat and has a few dairy goats. Many people, like Ipsen, who cannot drink cow's milk drink goat's milk instead.
The average goat can live to be about 15 years old, she said. Ipsen has two female goats that are about 9 years old.
"I'll keep doing this as long as I can," she said. "I enjoy them so much."