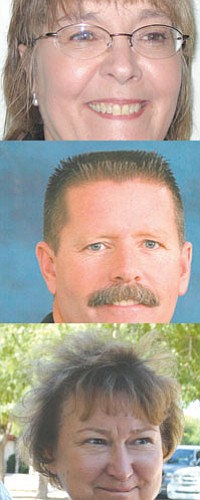 Originally Published: November 6, 2009 6 a.m.
KINGMAN - Local state representatives will be heading back down to Phoenix for yet another special session to fix the state budget. The state currently has a $2 billion budget deficit.
Rep. Nancy McLain and Doris Goodale confirmed that leadership from both houses of the state Legislature are working on a budget agreement with Gov. Jan Brewer and are trying to gather enough votes to hold a special session on the budget the week of Nov. 16.
The final details of the agreement have not been hammered out yet, but both representatives say that it could include an additional $300 million in budget cuts and a fix to bring funding for K-12 education and the Department of Economic Security back in line with federal requirements for stimulus funding.
"We're in a mess," said Goodale. "It's going to be painful. I don't see how any department can escape additional cuts."
Sen. Ron Gould thinks the Legislature should wait until its regular session starts in January. The Legislature has a lot more flexibility in a regular session as compared to a special session, which usually has a time limit, he said.
"I don't want to give the governor the option to line-item veto another bill," he said.
Brewer line item vetoed two budget bills sent to her office, one in July and another in August. Neither bill contained a 1-cent sales tax she wanted to increase state revenues.
That sales tax request will not be part of this special session, McLain said.
The governor wants the Legislature to give her everything she wants and then throw out what lawmakers want, Gould said.
He's not worried about keeping state offices up and running in the meantime. The Joint Legislative Budget Committee says there are enough funds to keep the state going until the start of the next regular session, he said.
Goodale and McLain believe the Legislature should have started another special session sooner.
The sooner the Legislature can figure out what to do with the budget, the sooner state agencies can start figuring out what they need to do to meet those budget requirements, Goodale said.
McLain agreed. The Legislature waited until a regular session last year and then required state agencies to make a year's worth of cuts out of the remaining six months of their budgets.
"It's not just the Legislature that's to blame," she said. State agencies are continuing to spend more then necessary. The governor could tell the agencies to slow their spending, but she hasn't, she said.
One of the largest fears of both Goodale and McLain is that funding for the Kingman Department of Public Safety Jet Ranger helicopter could be cut.
"It's a matter of life and death up there," Goodale said. "We need a fair tax plan. We need to work cooperatively through this fiscal financial crisis and do so responsibly without compromising critical services."
McLain has also spoken with DPS officials and does not believe that budget cuts for that department will get to that point.
"We're trying to be as gentle as we can with cuts to DPS, but we're starting to cut into the core agencies (public safety, health)," she said. "At this point in time, we're truly desperate."