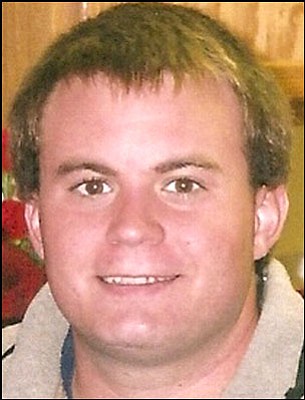 Originally Published: November 8, 2009 6 a.m.
In loving memory of Dennis Clifford Hopper.
Dennis was born Feb. 14, 1984, in Kingman and was a life-long resident of Kingman. Dennis was the best Valentine's Day gift ever. He passed away unexpectedly on Saturday, Oct. 31, 2009, at the age of 25.
Dennis was an intelligent and energetic child who naturally took the center of attention because of his bright smile, big heart and generous hugs. When you met him, there was no doubt you'd be happy because he brought a magic touch to the atmosphere. He always aimed to please and gave to others even when he had little.
Dennis had a passion for cooking and spent many hours in the kitchen helping and learning from the young age of 8 years. He received his first cookbooks and a blue denim "Bugs Bunny" apron for his 9th birthday. He was a very enthusiastic chef and created a lot of fun and unique recipes. Dennis worked as a cook at several local restaurants, where he learned many special cooking techniques and became very skilled at it. He was a hard worker and jumped in with both feet. He was his own version of "Iron Chef Dennis"!
Dennis enjoyed sharing his love for cooking at family dinners and barbecues, and entertained everyone with his energetic style and great tasting food.
Dennis spent many years participating in karate and liked the individual competition and discipline that it required. His karate and grappling skills led to his interest in the sport of wrestling in school.
He also enjoyed hunting and fishing with his Dad, Brother, Grandpa, and Uncles Paul and Jim. One of Dennis' favorite things was spending time with his dogs, Oscar and Bear.
Dennis was very close to his family and they all loved him and will miss him with as much passion as he always gave.
Dennis is survived by his immediate family: father, Clifford Hopper; mother, Lori Hopper; brother, Evan Hopper; sister-in-law, Valerie Hopper; and nephew, Gavin Hopper, all of Kingman. He is also survived by his grandparents, Wesley and Marjorie Martin; aunts and uncles: James and Patricia Hopper, Vicki Jenkins, Joan Balluff, Paul and Sheila Martin, and Erin Otto, all of Kingman; as well as dozens of cousins from Kingman and many more aunts, uncles and cousins from Las Vegas, Phoenix, Mesquite, California, Oregon and elsewhere. He was preceded in death by his Nana, Myrtle Hopper.
There will be a memorial Celebration of Life for Dennis at 3:30 p.m. on Saturday, Nov. 14, at the First Southern Baptist Church, 3120 Hualapai Mountain Road, Kingman.
More like this story