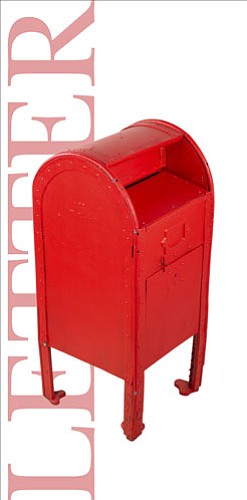 Originally Published: November 9, 2009 6 a.m.
This is an open letter to all who attended my son's final farewell.
Eric Edward Ruggles was laid to rest Friday, Oct. 23, 2009. I want to take a moment and thank a few special people for their time and support. To Sheriff Tom Sheahan, thank you for speaking at my son's funeral, as your kind words were much appreciated. Also, to Chief Deputy McCabe and all other county employees and dignitaries for being present and showing your respect to my son. I had no idea how many lives my son touched in his short time with us here, but that was definitely evident by the presence of all the law enforcement officers from three different states as well as the 200 to 300 people who joined his family and close friends in the celebration of his life.
To all of his friends from high school, Knott's Berry Farm and the Mohave County Jail, I want to extend to you a heartfelt thank you. I cannot express how much it meant to me that people came up to me and told me their special Eric stories and in turn let me tell them one of mine.
A very special thank you to his best friends, Jonathon, Kelsey, Lee and Stephanie, who without their help I could not have made it through the week; I love you all and I know that you all will miss him as much as I.
To the rest of his friends from high school, California, everyday life and work, I hope that you all feel richer by just having known him.
I hope no one feels left out, but as Eric may have had people in his life that did not get recognized in a picture or a story. I hope that you can remember that this was a celebration of his life and not yours. I appreciate everyone who did not tell me their Eric story if it was inappropriate. Now I suffer no delusions that Eric may have done stuff that would not have made his mother proud, I know that he loved me and would rather I did not know.
Please say a prayer for all the small children who will miss their Uncle Eric and for the ones who will never get to know him.
I want to also thank all the officer's who attended in uniform and drove in the procession - your tribute and respect to Eric is heartfelt. To the people on the side of the road who took the time to stop, put their hand over their heart or salute the flag, or just spent a moment of silence in his honor, thanks to you as well. Thank you to all who read his obituary and had a kind thought or a good memory of him, and to those who could not attend or did not think it was appropriate to attend, you were mistaken because everyone was welcome since that is the way Eric was.
Thank you to my family, friends, and business partners who either attended or sent flowers, your support was very helpful. To the women at Elegante in Lake Havasu City, I want to thank you for putting up with all of us as we were preparing for his funeral. To the Donut Post in Lake Havasu for the use of your extra coffee pot so I could make sure all my out of town guests were taken care of. I want to thank Reverend Bob Greene for officiating such a beautiful service and Allison at Lietz-Fraze Funeral Home in Lake Havasu City for all of her coordination efforts for my son's funeral.
It truly was a beautiful service. We laughed, we cried, we remembered. I will miss my son, but God had another plan for Eric. Till we meet again.
His loving mother,
Toni Goda