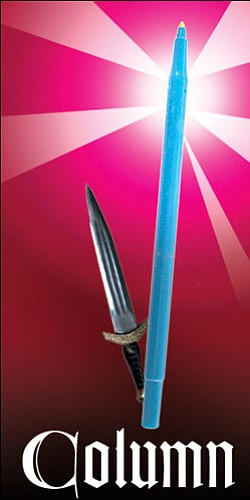 Originally Published: November 11, 2009 6 a.m.
Some people are confused about the difference between Veterans Day and Memorial Day.
Many people take Veterans Day, celebrated today, on Nov. 11, for granted and believe it is just another day when they do not have to go to work. They honestly don't have a clue to the history and meaning behind Veterans Day.
People who take Veterans Day for granted don't realize that more than 43 million military personnel have faithfully served their country in honor during time of war, and many of them lost their lives defending freedom we all enjoy each day.
Veterans Day, formerly known as Armistice Day, was originally set as a United States legal holiday to honor the end of World War I, which officially took place on Nov. 11, 1918. In legislation passed in 1938, Nov. 11 was dedicated to the cause of world peace and to be hereafter celebrated and known as Armistice Day. As such, this new legal holiday only honored World War I veterans.
In 1954, the 83rd U.S. Congress, at the urging of the numerous veterans service organizations, amended the Act of 1938 by striking out the word Armistice and inserting the word Veterans. With the approval of this legislation on June 1, 1954, Nov. 11 became a day to honor American veterans of all wars.
Memorial Day honors service members who died in service to their country or as a result of injuries incurred during battle. Deceased veterans are also remembered on Veterans Day, but the day is set aside to thank and honor living veterans who served honorably in the military, in wartime or peacetime.
Another interesting tidbit than many people don't realize is one in three homeless people are veterans. Accurate numbers are impossible to come by. No one keeps national records on homeless veterans. The Veterans Administration estimates that nearly 200,000 veterans are homeless on any given night.
It is also estimated that almost 400,000 experience homelessness over the course of a year. Officials believe one out of every three homeless men and women who are sleeping in a doorway, alley or cardboard box in our cities and rural communities has put on a uniform and served our country.
According to the National Survey of Homeless Assistance, veterans account for one-third of all homeless people in America.
The next time you see a homeless person sitting alongside of the road, don't look at them with disgust. Take the time out of your busy schedule to see if they just need a helping hand.
More like this story