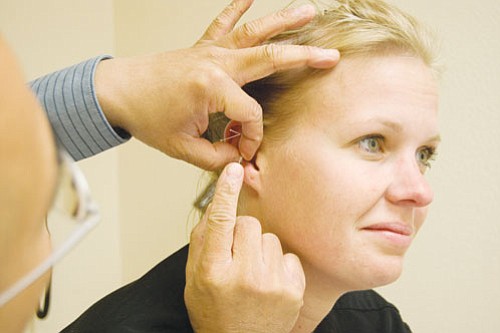 Originally Published: November 16, 2009 6 a.m.
KINGMAN - When Dr. Albert Yeh's Golden Valley pain management clinic was raided by the Drug Enforcement Agency in February, the pain management center at Kingman Regional Medical Center was flooded with patients.
Yeh is accused of improperly prescribing narcotics. His displaced patients, many reportedly with an addiction to opiates, came to KRMC hoping to refill their prescriptions and continue using narcotics.
But Dr. Stevens Yang, a trained anesthesiologist specializing in acupuncture, is hoping to offer patients an alternative to more pills.
"We can only manage the pain," Yang said. "If someone truly has chronic pain, like fibromyalgia, there is really no treatment. But we don't want to just give someone a pill and have them walk out with an opiate addiction on top of their condition."
Yang believes that acupuncture, one of the oldest forms of Chinese medicine, can help. When coupled with other more traditional treatments, acupuncture seems to have a noticeable effect on pain, Yang said.
"A lot of patients have already tried everything from other pain management clinics that didn't work," he said.
Acupuncture therapy involves a series of weekly or biweekly treatments during which an average of five to eight ultra-thin, disposable needles are inserted along the body's meridians. Meridians are channels through which energy, called "qi," flows.
It is believed that stress, trauma, illness and other conditions disrupt that flow of energy along the meridians. That disruption ends up manifesting itself as pain, Yang said. Acupuncture focuses on treating the whole body by identifying and correcting the body's energy flow imbalance, he said.
"Once the energy is restored, the symptoms usually go away," Yang said.
The practice of acupuncture as a healing art has been used in Chinese medicine for more than 2,500 years. Yang said that there is recent evidence that the insertion of the needles helps stimulate the body to produce more endorphins, although there have been few studies done to quantify acupuncture's effectiveness.
It's also not guaranteed to work for everyone, which is why the only way to find out is to try it, Yang said. And because it's considered an alternative therapy, it isn't always covered by insurance policies. Acupuncture costs around $60 per session.
There are few dangers associated with acupuncture, although pregnant women are urged against it because the process could stimulate the uterus and result in a spontaneous abortion of the fetus.
Patients who couple their treatment with acupuncture should have patience, Yang said.
"It doesn't happen overnight," he said. "It can take up to several weeks."
Patient John Pool said he noticed a difference after his first treatment. Pool has suffered from back pain for five years. He had lower back surgery to help ease the pain. When he went back to his surgeon after the pain returned, the doctor recommended he try pain management therapy.
Pool was reluctant to take any narcotics for the pain.
"Once you're on the pills, you're on them," he said.
Instead, he went to the clinic at KRMC and began therapy and acupuncture treatments.
After his first session, Pool said the muscles in his lower back felt looser and he was able to stand up straight for the first time in two years.
The pain does return, but after three treatments in four weeks, Pool said his pain has gone from a seven or eight on a scale of one to 10, to a two.
"I don't want to say it's a miracle cure, but it has allowed me to do things I haven't been able to do in years," Pool said.
More like this story