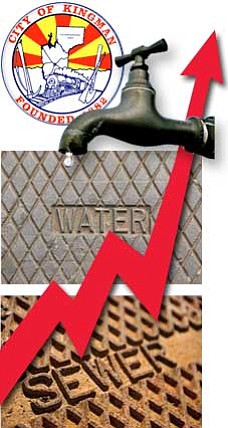 Originally Published: November 16, 2009 6 a.m.
KINGMAN - The Kingman City Council will tackle a scant agenda tonight, with just two items of old business up for discussion, plus a pair of department reports.
The evening's main discussion is likely to focus on further adjustments to the city's monthly water and wastewater rates, which were last raised in December. In order to continue meeting its lending requirements to pay for various water and wastewater improvement projects around town, the city is proposing raising the average residential water bill by an additional $2.61 per month, from $26.08 to $28.69, with corresponding sewer bills set to rise about $10.69 a month, from $21.38 to $32.07, a 50 percent increase.
The raises are part of a 10-year process based on a rate study completed by the Red Oak Consulting firm in October 2008. It anticipates additional water rate increases in 2010, 2011 and 2016, up to an eventual monthly rate of $34.45. The study also anticipates another, much smaller increase in sewer rates next year, with potential rate decreases from 2013 to 2018 to a final rate of $28.22 in fiscal year 2019.
If approved, the rate increases would take effect Jan. 1.
The only other item on the regular agenda is consideration of a two-year preliminary plat extension for the Retreat at Boulder Creek, a 232-lot subdivision planned for 81 acres north of Hualapai Mountain Road, east of Yavapai Drive and west of Seneca Street.
Council had already approved a one-year extension for the subdivision at its Oct. 6 meeting, but at that same meeting it also voted to allow for two-year extensions. The property owner, Dunton and Dunton, LLC, then requested a two-year extension instead. If approved, the Retreat at Boulder Creek would be the first such two-year extension granted by Council.
Financial update
Following the regular agenda, Finance Director Coral Loyd will provide Council with a first-quarter update on the city's financial status. Based on the Council packet, Loyd is expected to report that the city is currently on-budget, with sales tax revenues slightly higher than originally anticipated, running about $367,000 above where they were expected.
Preliminary figures for the first quarter of FY2010 indicate that, for the first time in four years, the city's tax revenues have actually increased year-over-year, albeit by less than one percent, with eight months left to go. Additionally, city expenditures are at or below budget in nearly every single spending category except Information Systems. Even so, Loyd is expected to warn Council that further budget cuts may be necessary due to the ongoing instability of the state Legislature's budget process.
Following Loyd's report, City Engineer Greg Henry will provide an update on improvements to the city's Downtown Wastewater Treatment Plant.
The meeting begins at 6 p.m. in the Council Chambers at 310 N. Fourth St. For full agenda details, visit www.cityofkingman.gov and click on "Agendas|Minutes|Videos."