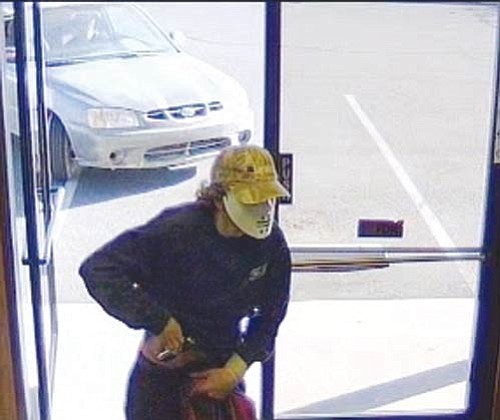 Originally Published: November 19, 2009 6 a.m.
KINGMAN - The Mohave County Sheriff's Office is appealing to the public for help in identifying the suspects in two separate Golden Valley robberies over the last month.
Deputies are still looking for a male suspect who held a clerk at gunpoint during a robbery at the King Tut's Mini Mart on Route 68 Nov. 11.
A $500 reward for information in the case has been increased to $2,500.
A 19-year-old clerk was shot in the foot during the incident. The male suspect made off with an undisclosed amount of cash.
The man is described as approximately 5-foot-5 to 5-foot-8, with a thin build and weighing 130 to 160 pounds. He left in a black Ford Ranger pickup truck that was later found on fire at Hoover Road and Burro Drive.
The truck had been stolen from Golden Valley earlier that week. Deputies believe the suspect was picked up by a second vehicle.
Another $500 reward is being offered for information for the suspect responsible for an armed robbery at the National Bank of Arizona on Route 68 one month prior on Oct. 16.
In that case, a male subject entered the bank brandishing a gun and left with an undisclosed amount of cash. No one was hurt. The suspect was seen leaving the area northbound on Hope Road in a grey or silver colored "import type" passenger vehicle with distinctive red rims.
The suspect is described as a white male subject, approximately 5-foot-8, with a slender built, brown hair and wearing a long sleeve shirt and black pants.
Anyone with information on either case is asked to call (928) 753-0753 or Silent Witness at (928) 753-1234.
More like this story