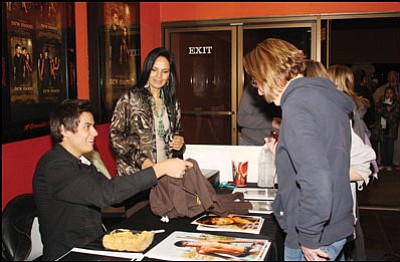 Originally Published: November 25, 2009 6 a.m.
KINGMAN - Hundreds of teens - and a few brave parents and grandparents - packed Brenden Theatres on Stockton Hill Road Monday night to meet one of the stars of this fall's biggest blockbusters.
"I don't really know what to say to someone so big on the scale," said 12-year-old Nicole Rice, who was in line with her friend Morgan Walker. "I'll just say 'hi,' I guess."
Kiowa Gordon, a member of the Hualapai tribe and a former resident of Kingman, stars as Embry Call, a werewolf in "New Moon," the second in the "Twilight" series.
"It's pretty surreal," Gordon said as he signed autographs. "It's crazy because I used to come to this theater to see movies." Gordon's visit was arranged by theater manager Dina Trevino, also a Hualapai tribe member and an acquaintance of Gordon's mother, Camille Nighthorse.
Theater owner Tom Daugherty said all of the showings thus far for "New Moon" have sold out. The theater holds 180 people.
He called it the theater's biggest release ever.
Ashley Amavor, Darlea Guthrie and Dinasty Kramp had hoped to be the first ones in line but had at least an hour's wait before they met Gordon.
"We're going to give him our autograph," the teens said, holding up a signed snapshot of themselves.
Ed and Peggy Strain, both in their 60s, aren't the typical "Twilight" fans, but they braved the cold and long line to snag some autographs.
"The things we do for our grandchildren," Ed said.
Both said they were delighted that the star returned to Kingman to meet fans.
"To find someone that's local and made it, that's nice," Ed said.
"And cute on top of that," Peggy added.