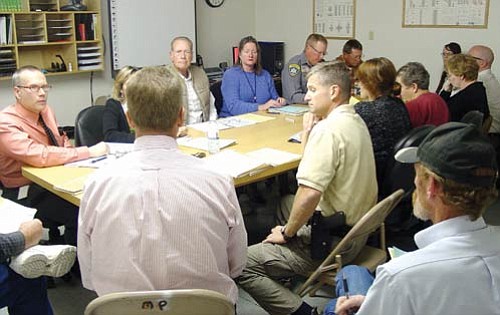 Originally Published: November 26, 2009 6 a.m.
KINGMAN - The Mohave County Abatement Action Committee is teaming up to clean up Mohave County.
The committee met with Dist. 1 Supervisor Gary Watson Nov. 17 to discuss objectives and plan actions.
The committee brings together all Mohave County divisions and lead personnel that deal with illegal dumping, open lot storage, dangerous structures, health nuisance, zoning code and other code violations that impact the public's health and safety.
"I think most of you know that cleaning up Mohave County is one of my most important goals," Watson said.
"I grew up here. I remember how pristine it was 50 years ago. It is really important to me that this committee continue to function and broaden its scope and ability to perform for the citizens of the community."
"This committee has made it easier for us to focus our efforts," said Environmental Health Division Manager Rachel Patterson. The teamwork approach is a "really great way to streamline the action on the more-desperate situations" that need immediate action, she said.
The committee is comprised of personnel from Development Services, Environmental Health, the Building Department, the Zoning Department, Environmental Rural Area Cleanup Enforcement (ERACE), Parks Department, Flood Control, the Sheriff's Office, Engineering Department, the County Attorney's Office and Housing and Community Revitalization Department.
Her division deals with trash/garbage piles that cause odor, flies and rodents, all of which are health hazards or health nuisances, Patterson said. If a violation is found, a Notice of Violation is issued which gives the owner 15 days to respond; if it is a sewage violation, 24 hours to respond. If there is no response, a Compliance Order is issued, giving 15 days and civil penalties which can be from $750 to $5,000. If nothing is done after that time period, "we bring in the County Attorney's Office. We took 80 cases to court in Fiscal Year 2009. The previous year we took 44 to court. Our program is still growing," she said.
Patterson's division had 739 complaints in fiscal year 2008 and 814 in 2009. "We performed more than 1,900 inspections in 2009." Liens were placed on properties cleaned up by Environmental Health during 2008 and 2009. When the cleanup fund was established in 2008, the division was given $20,000.
"This fund now stands at approximately $112,000 with $180,000 in outstanding liens." The increased funding comes from "judgments resulting in liens and out-of-court settlement agreements," she said.
The two county attorneys are very important to the Abatement Committee, said Development Services Department Director Nick Hont.
"(Deputy County Attorney) Dolores (Milkie) handles our Environmental cleanup cases," said Chief Civil Deputy County Attorney Robert Taylor. "I work primarily with zoning inspectors to bring violations of zoning codes. We have had pretty good success. The judge is willing to impose fines and jail time and terms of probation to get the offenders the opportunity to clean property up. The property owner has the incentive with jail time and fines to get the property cleaned up - which is our objective."
"We pursue violations of the zoning ordinance which could be storing too much stuff on your property, operating a business in a residential zone, not getting a permit for your building, too many dogs or cats or just a whole list of items," said Development Services Planning Manager Chris Ballard. "Our storage issues are different from Environmental Health. Their stuff is household trash. Ours is junk. We typically handle about 1,100 cases per year. Of those, approximately 600 are considered active at any point in time. Approximately 10 percent of the cases we handle go to court. We do try to resolve them out of court."
The ERACE program has been very active in dealing with illegal dumping on both public and private lands.
"We spend 70 to 80 percent of our time investigating criminal littering complaints," said ERACE Coordinator Gary Sibble. "We also work with communities on cleanup projects. Our big tool is the county anti-litter ordinance."
ERACE works with Environmental Health on excessive trash and sewage dumping and interacts with building and zoning inspectors on excessive storage complaints, he said. "We mediate and cleanup dumpsites. We have a working partnership with the state prison and are working on a partnership with the Bureau of Land Management. We work with the Probation Department in getting community service work."
Chief Building Official Darrell Riedel pointed out that his division mostly handles abandoned and dangerous buildings.
"People walk away from them," he said. "They get vandalized. We wind up with burned out homes and mobiles" that are dangerous structures. "Our biggest issue is trying to run down property owners."
Environmental Health Division Supervisor Mary Ann Roche said, between her and her three employees, "We cover the entire county. We do both residential and commercial on sewage and trash."
Building Technician HaliKae Hiser facilitates the Abatement Committee meetings and prepares the cases for presentation.
With the Building Division, "we prioritize dealing with structures where children can get hurt," she said. But the law is that "if a property is fenced secure and locked, we cannot remove a structure. If it is secured from the public, it is considered, under the law, as no longer dangerous. We can't touch it."
However, sometimes there are special circumstances they have to deal with, Hiser said.
"There are people living in dangerous conditions," she said, "and we certainly don't want to displace those people. Now that we are working with the Housing Division, we can abate the property while Housing helps the residents with a new living place."
"We (Community Services) have received funding through ARRA (American Recovery and Reinvestment Act) to do a Mohave County Cleanup Program," Community Revitalization Manager Dave Wolf said. "We take referrals from the Building and Environmental Health divisions and do the Owner Occupied Housing Rehabilitation portion and, in addition, clean up the property. We are primarily concerned with homes; however we can do septic systems and so forth."
The county should have the new stimulus funds for cleanup purposes by Dec. 1, said County Grants Coordinator Barbara Blythe, who manages the Owner Occupied Housing Rehabilitation Program.
Blythe's program can do full mobile home replacements, but it "depends on how big the family is and the size of the home," she said. "We are not just looking at code violations, but at the people and the health and safety issues in the homes."
Community Services expects people to take some responsibility, she said. "We place a lien on the property, but it is a forgivable lien."