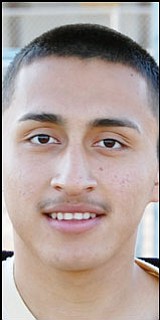 Originally Published: November 27, 2009 6 a.m.
KINGMAN - Reserve goalkeeper Brian Abraham couldn't reel in Lake Havasu's last penalty shootout attempt, and the Kingman High boys soccer team lost its season opener 6-5 to the Knights Monday in Havasu.
Abraham had to replace injured starter Jesus Lozoya and finished with three saves, including two in the shootout. Lozoya had four saves before leaving the game.
"It was a hard fought game," KHS coach Matt Tortora said. "There's no quit in this team. Twice we were losing and came back to tie the game."
KHS took an early lead when sophomore Nery Munoz-Castillo scored in the game's first 10 minutes on an assist by senior Brad Noonan.
The Bulldogs couldn't hold the early lead, and Havasu held a 2-1 advantage at the half.
Only one goal was scored in the second half, and it was Munoz-Castillo again who sent the game into overtime.
Overtime
Havasu scored first in overtime to lead 3-2, but Munoz-Castillo and Noonan reversed their earlier order when Munoz-Castillo assisted Noonan for the game-tying goal at 3-3, which was the score at the end of overtime.
Noonan scored KHS' first shootout goal, but the Bulldogs missed their next three attempts when two shots went over the crossbar and the third was right at Havasu's goalkeeper.
Munoz-Castillo added KHS' second shootout goal, which set the stage for Havasu's final goal of the game and the 6-5 win.
Munoz-Castillo is in his second year on the varsity squad, and Tortora said he expects the sophomore to be the Bulldogs' main offensive threat and playmaker.
"Nery has some of the best footwork I have ever seen," the coach said. "He has the ability to see the entire field. He makes everyone around him better."
Tortora called out role players Cameron Burgess, Geoff Angle, Daniel Torres and Bryan Sengdeng for their unselfishness.
Team players
"Many players have positions they want to play," the coach said. "But when asked to play another position, these players played hard and didn't quit."
The Bulldogs had four missed opportunities for goals when Munoz-Castillo had two shots hit the post, Deryck Campbell also hit the post, and a Shane Hall attempt was kept out of the goal due to an amazing save by Havasu's goalkeeper.
"This definitely was a game to build off of and help us this year," Tortora said. "It was a great character-building game."
KHS takes on Bullhead City Mohave at 6 p.m. Tuesday on Lee Williams Field at White Cliffs Middle School in its home opener.