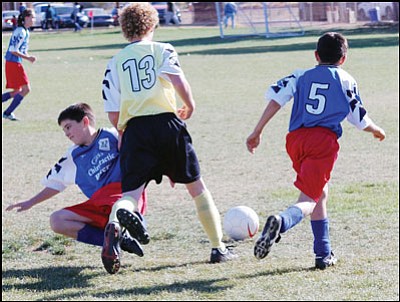 Originally Published: November 30, 2009 6 a.m.
KINGMAN - The Northern Arizona Youth Soccer League crowned four league champions Nov. 21 at Centennial Park, and the Under-10 Mahoney Group led the way when it finished the season with a 10-0-2 record.
Mahoney began the day defeating Mohave Wireless (7-4-1) by a 3-0 score to advance to the championship match. Mahoney met up with Promoting Lifetime Activity for Youth (9-3) after PLAY knocked off Mertens Heavy Equipment Repair (8-2-2), 3-1. Mahoney won it all with a 4-2 win over PLAY, and Mertens won the consolation match 4-1 over Mohave Wireless.
Phoenix Grill (10-1-1) beat Great West Heavy Towing (9-3) by a two-goal margin, 3-1, in the championship U15 match after dispatching Stagner Eye Center (4-5-3) in a semifinal, 2-1. Great West advanced to the finals with a 4-1 win over the Glass Chiropractic Racers (4-5-3). Stagner beat Glass 1-0 for the consolation trophy.
Dunton Motorsports (8-1-3) came into the day with the same goal as The Mahoney Group - stay unbeaten. However, it was Ransdell Dental (9-1-2) that won the championship with a 3-0 victory over Dunton. Dunton advanced with a 1-0 victory over Sub Base (5-7-0), and Randell got by Pesty Pest Control (8-3-1) 2-0 in the semifinals. Pesty Pest beat Sub Base 2-1 in the consolation game.
The Mahoney Group (10-2-0) also took the U8 crown when it edged Taflan's Quality Automotive (10-2-0) 2-1 in the championship contest. Mahoney defeated Mandarin Orchard House (4-3-2) in one semifinal, 4-2, and Taflan's beat Desert Edge Carpentry (8-3-1) in the other, 5-2. Desert Edge won the consolation game 3-0 over Mandarin.
The U19 division held its tournament Nov. 14 in a round-robin format. In the first match, Brackett Aero Filters (7-2-2) and Steel Buildings (7-3-1) battled to a 5-5 tie in regulation. Brackett won the match on penalty kicks, 2-1.
The second match saw the White Wind Tigers (4-5-2) hand Brackett a 5-2 defeat. White Wind came back strong in the final game, holding off the regular season champion Steel Buildings 6-4 to walk off with the first place medals. Brackett took the silver, and Steel Buildings settled for bronze.