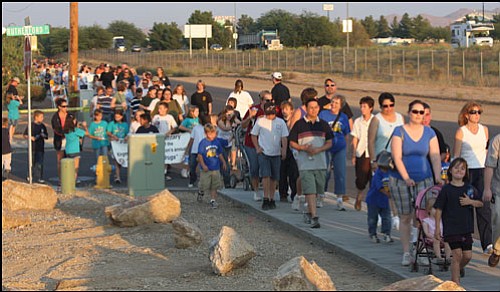 Originally Published: October 2, 2009 6 a.m.
KINGMAN - Polish off those walking shoes - Kingman's 3rd Annual Walk Away From Drugs is set for this coming Tuesday.
Kingmanites of every age are invited to participate in the walk, which begins at three separate locations and converge near the north softball fields at Centennial Park, 3333 Harrison St. The walk is free to the public and requires no prior sign-up; participants need only show up at one of the three designated starting locations.
Those locations are, from closest to farthest from Centennial Park: Mother Road Harley-Davidson at 2501 Beverly Ave.
(.3 miles away), Smith's Food and Drug Center at 3490 Stockton Hill Road (.9 mi.) and the Kingman/Golden Valley Association of Realtors at 1923 Kino Ave. (1.3 mi.). The lineup for the walk will begin at each location at approximately 5:30 p.m., with the walk itself starting at 5:45.
"The times are a little bit flexible because each year we get more and more people," said Capt. Scott Wright of the Kingman Police Department, one of the event's key organizers. "The first year we expected 500 people, and we got 1,500 people. This year we're hoping to get 2,000, and who knows, maybe we'll get even more."
Once walkers arrive at Centennial Park, they can expect to enjoy hot dogs and other refreshments provided by the Powerhouse Kiwanis and the Kingman Elks Lodge. Special guests to this year's event include Doug Hebert of the Drug Enforcement Agency, Department of Public Safety Director Roger Vanderpool and Gerald Richard, an adviser to Arizona Attorney General Terry Goddard.
Additional members of the Kingman Police and Fire Departments will also be on hand at the park for the Keep Kingman Safe public safety expo, which will feature various emergency vehicles as well as the KPD mobile command center. "We're going to be doing some giveaways," Wright said. "We had a poster contest and we'll be giving several kids awards for their efforts."
New this year to the walk is the Arizona Youth Partnership's "Dump the Drugs" program, which will enable families to dispose of any leftover or expired prescription and over-the-counter medications they no longer need. From 5 to 7:30 p.m., several AYP partners in orange shirts will be present at the park along with members of the Mohave Area General Narcotics Enforcement Team, who will provide a receptacle for anyone to drop off their unwanted drugs.
Local AYP Community Development Coordinator Pam Kowalski said the program was devised as a way to get such drugs out of people's homes, where they can easily fall into the hands of susceptible youth. She claimed there is an increasing trend of "pharm parties," where teens mix prescription drugs in a bowl and take handfuls at a time to see what will happen.
"A lot of these kids are just grabbing the bottles and dumping them in. It could be blood pressure medicine, birth control ... and a lot of them are mixing them with alcohol or marijuana and other illicit drugs," Kowalski said. "They think they're invincible and that they're just having a good time. They don't think about the consequences or the harmful effects."
While local AYP members have not observed any overdoses or fatalities related to such parties, the trend is nevertheless expanding, based on what Kowalski said she's heard at the training conferences she's attended. She added that, by dropping drugs off at the park, families can be assured their drugs will be properly incinerated rather than simply flushed down the toilet, which can contaminate the water supply.
"Scientists have found that, out of testing lakes and rivers and drinking water facilities, about 80 percent have some sort of prescription drug contamination," Kowalski said.
She further noted that people unable to participate in the walk are not required to do so to take advantage of Dump the Drugs. "Somebody just getting off work can drive by and say 'Here,' and just dump them in the box," she said.
Walk Away From Drugs and Dump The Drugs are sponsored by a broad coalition of local organizations and businesses including: KPD, the Mohave County Sheriff's Office, the Kingman Area Chamber of Commerce, Kingman Regional Medical Center, Mohave Mental Health, Hualapai Mountain Medical Center, Taco Bell, Mohave State Bank, Monica J. Busch Investments, MTC Arizona State Prison, H&H Printers, Students Against Destructive Decisions, the Arizona Meth Coalition and Wecom, Inc.
For more information on Tuesday's events, call Wright at (928) 753-2191 or Kowalski at (928) 692-5889.