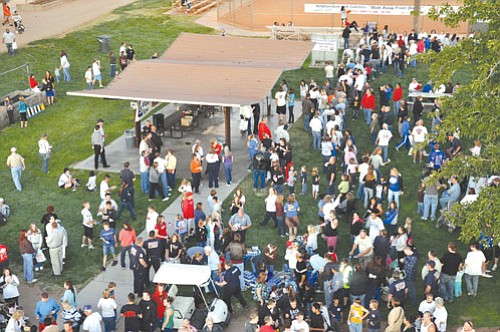 Originally Published: October 8, 2009 6 a.m.
Click here to see related video
KINGMAN - The 3rd annual Walk Away from Drugs may have been the biggest yet, with more than 2,000 area citizens converging on Centennial Park to take a stand against drug abuse and its effects on the community.
"It shows that our community is really in support of eliminating drugs from our area," said Kingman Mayor John Salem, who was joined at the event by City Manager Jack Kramer, Vice Mayor Janet Watson and most of the Kingman City Council. "I'm really pleased to see so many people come out for this."
"It's a very good sized crowd," added Kingman's police chief, Robert DeVries. "It's just fantastic. I think it sends a really strong message to where the community is going."
That message certainly struck a chord with Gerald Richards, a special policy advisor to Arizona Attorney General Terry Goddard. Addressing the audience, Richards praised Mohave County for doing more than any other in the state to address drug abuse prevention and spread community awareness through events such as the Walk Away From Drugs. "Right now, there is no county above you," Richards said. "Mohave County is second to none."
Department of Public Safety Director Roger Vanderpool also praised the large turnout, especially for the number of families in attendance. He also had strong praise for the anti-drug efforts of the KPD and the Mohave County Sheriff's Office. "We are delighted to be partnered with some of the finest law enforcement in the state of Arizona," Vanderpool said. "This is a great turnout, because home is where the prevention starts."
Douglas Hebert of the Drug Enforcement Agency presented some eye-opening statistics on the rising trend of prescription drug abuse. In 2006 alone, he said, more Americans died from prescription drug overdoses than the tallies for meth, cocaine and heroin combined.
This fact was not lost on Pamela Savoy, who was one of many to make use of the Arizona Youth Partnership's new "Dump the Drugs" program, which allowed attendees to dispose of their unwanted or expired prescription drugs. Savoy said she only remembered the program on her way to the event, and actually turned her car around to go back home and get her prescription, feeling it was that important.
Tagging alongside her was Savoy's 4-year-old son, Jiries. "He's really intrigued by it all," she said.
Manning the "Dump the Drugs" table was AYP Community Development Coordinator Pam Kowalski. She said seeing youngsters like Jiries at the event was an encouraging sign, since the underlying message is more likely to stick if it's introduced at an early age.
"This is great because the more activities we do with the kids, the more they're going to be against (drug abuse)," Kowalski said.