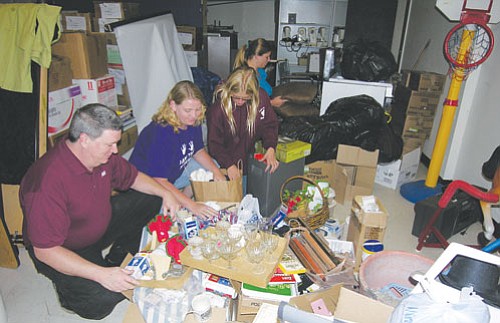 Originally Published: October 9, 2009 6 a.m.
KINGMAN - Don Gragg flatly admits that, if it hadn't been for band class, he would never have made it through school. As important as he knew reading, writing and arithmetic were, it was playing an instrument that gave him the drive to keep at his studies - after all, if his grades fell too low, he couldn't play anymore. And he loved to play.
"I never would have made it through school without that extra incentive," he said.
Gragg saw that same need in Kingman's middle and high school students when he moved here last year to be with his wife, Julie, the band director for Kingman Middle School.
But at a time when school budgets are already under strain, Gragg knows that the arts, including choir and band, are often the first programs to go before the chopping block, despite the value they have to those students who might not make it without them. And while the Kingman Unified School District hasn't made any drastic program cuts to date, Gragg pointed to a similar situation in Flagstaff, where the district there fired its entire compliment of music teachers earlier this year due to poor budgeting.
That's why last November, Gragg and five other band supporters got together to form the Kingman Band Boosters, a group dedicated to fundraising, volunteering and advocating on behalf of KMS's band program. The idea, he said, was to go beyond what the school was already doing for students by getting parents involved in band-related activities, helping to pay for their trips and letting the school board know just how important the arts are to their children.
"This is the age where they need to know there are adults who care," said the Boosters' secretary, Toni Henry, whose son attends KMS. "They may not want us there, but they need us there."
Henry said her son is in much the same place Gragg once was, struggling with his grades until he found something to hold his attention in school. "He would not bother to maintain his grades if it wasn't for the opportunities band provides," she said.
"It's incredible the things they're doing," said KMS Principal Jerry Arave. "They enhance what we're already doing, and parents like Mrs. Henry are a godsend to schools. They really do a lot for us."
One of the Boosters' first major projects was to repaint KMS's drab band room using money they raised through bake sales, car washes and pizza sales.
"We repainted it, put some signs up, posters, fixed some ceiling holes," Gragg said. "It was supposed to be two weekends, but it ended up lasting all summer."
Now, the Boosters are hoping to raise enough money to make up cuts to the band's field trip budget, which can run as much as $1,400 to travel to state competitions in Phoenix. They also hope to get enough funds together to start replacing the band's instruments, some of which date back to the Nixon administration.
"Much of our instrument inventory is very old," Julie said. "The school provides for the repair of those instruments, but I'm sending the same baritone back for maintenance every year."
For its next big fundraiser, the Band Boosters are teaming up with music classes from around the district to hold a rummage sale from 9 a.m. to 3 p.m. this coming Saturday in the KMS parking lot at 1969 Detroit Ave. Gragg said the Boosters already have plenty to sell, thanks to a deluge of donations from the local business community, as well as many former band members who were only too happy to help.
"The response we got was fantastic," he said. "It was going to be a three-hour setup, now it's a two-day setup. This one house pretty much cleared out everything they didn't sell from a yard sale."
Items for sale include clothes, kitchen appliances, exercise equipment, dishes, glassware, at least one computer, handheld games, books, movies, toys and even an entire water softener unit, among many other items.
"It's all going to go that day," Gragg said. "And if you think about it, a lot of people in the community could really use some of this stuff, and we're going to give them a good deal."
The rummage will also feature musical accompaniment from the KMS band, the Kingman High School drumline and the Kingman Concert Band, as well as food kiosks selling popcorn, candy and hot dogs, a Coke trailer selling drinks, and two jump houses for kids to bounce around in, courtesy of R & R Jumps.
KMS is still accepting donations prior to the rummage sale. Donations can be dropped off between 3 p.m. and 6 a.m. on the east side of the school near the brown gate in the parking lot.
For more information on the Kingman Band Boosters or their upcoming fundraiser, or to arrange for a donation pickup, call Gragg at (928) 530-4821 or volunteer coordinator Cindy Whisler at (928) 715-9206.
More like this story