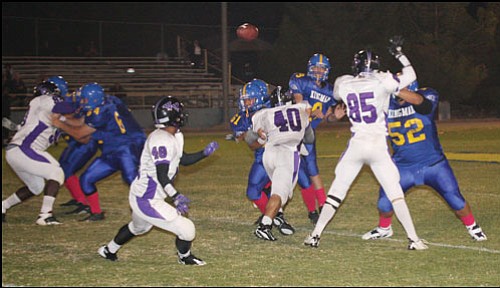 Originally Published: October 11, 2009 6 a.m.
KINGMAN - Big plays and missed opportunities cost the Kingman High football team Friday, despite setting three school records. Surprise Valley Vista ruined the Bulldogs' homecoming 42-26 - the seventh year in a row KHS has lost its biggest game on the schedule.
"You can copy and paste last week's headline," KHS coach Rob York said. "We didn't have the penalties that killed us, but we did have the mental mistakes."
KHS (0-4, 2-4) had its offense rolling. The Bulldogs amassed 470 total yards of offense, and quarterback Dylan Smith and wide receiver G. Herrera combined to break three KHS records and tie another.
Smith completed 27 of 46 passes for 376 yards. He broke Jason Edwards' 1993 record-setting performance of 22 completions and 284 yards passing against Cottonwood Mingus.
"I trust G.," Smith said. "He gets a lot of yards after the catch. But, I couldn't do it without the line. They work their butts off all week in practice, and I wouldn't be able to pass like that without them."
Herrera, who finished with 188 yards receiving, broke Steve Padilla's record of 180 yards in that same Mingus game. Herrera also tied Padilla with 13 catches when he hauled in a 5-yard touchdown pass from Smith with four minutes left in the game.
"I give a lot of credit to the O-line and Dylan," Herrera said. "He's getting pretty good time back there and he's getting me the ball."
Disappointed in a seemingly winnable game for the Bulldogs, Herrera found solace in his record-setting night.
"It was great," he said. "It does ease the pain a little bit, but it still would have been nice to come out with that win."
KHS did a good job containing Valley Vista (1-2, 3-3) tailback Charles James, though he did have touchdown runs of 11 and 25 yards in the fourth quarter. It was the big plays that haunted the Bulldogs, just like last week's loss to Mountain Ridge in Glendale.
The Monsoon held a 14-7 lead with less than seven minutes left in the first half, when quarterback Bailey Brock hit wide receiver Tirrell Turner for 72-yard touchdown. Turner was able to get behind KHS' secondary.
After Kyle Lombardi went through the right side for an 11-yard touchdown run to bring the Bulldogs within eight, 21-13, early in the third quarter, Brock and James connected for a 79-yard touchdown pass to put the Monsoon up 28-13.
"We got a little beat on those plays and the quarterback threw it right on the money," York said. "You can't coach speed. It's hard to practice against that when you don't have it."
Denver Rogers scored KHS' first touchdown on an 8-yard run to cap the Bulldogs' opening drive, and Jesse Hollingsworth made it 35-20 Valley Vista when he and Smith connected on a 24-yard touchdown pass early in the fourth.
Several missed opportunities left the Bulldogs with second thoughts. Midway through the second quarter, KHS was at the Monsoon 33 when Smith fumbled the ball away. And, with 3:10 left in the half, the Bulldogs had first-and-goal at the five. On fourth down, Lombardi tried the left side, but was tackled for a 2-yard loss and KHS turned the ball over on downs.
Smith was intercepted from the Monsoon 25 right before half and was intercepted at the Monsoon 26 late in the third.
"Between the 20s, we moved the ball real well," York said. "But down inside, the kids may be getting tight, which is something they have to stop doing. They need to stay relaxed and play their game."
KHS will be on the road for its next two games and face Willow Canyon (2-1, 3-3) next Friday in Surprise. The Wildcats beat Phoenix Goldwater 34-13 Friday.
"We have our work cut out for us," York said. "We'll see what the kids are made of the last four weeks."