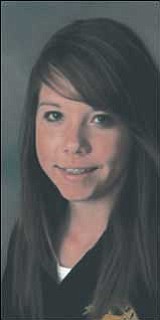 Originally Published: October 12, 2009 6 a.m.
KINGMAN - A Kingman High School junior is back home recovering from the accident that killed her best friend.
Raina Gentry, 16, came home a little less than a week ago, following several days in the Intensive Care Unit at Sunrise Hospital in Las Vegas. Raina was injured in an early morning crash Sept. 29 that killed 16-year-old Allissa Buchanan.
The two girls were on their way to swim practice around 4:55 a.m. when Allissa lost control of her 1990 Ford Bronco and hit a guardrail.
The SUV flipped and landed on its top. Raina was thrown from the vehicle. She remembers heading toward the guardrail and then nothing until waking up in the hospital.
"I remember waking up with a tube in my mouth and I didn't like that at all," she said.
Raina's stepfather, Kelly Rhodes, came upon the scene minutes after the accident occurred. He left for work just after the girls left to carpool from Valle Vista to swim practice.
Two other men had already stopped at the scene and parked their truck to protect Raina, who was lying in the middle of the roadway.
Kelly, a Marine, said he immediately reverted back to the medical training he'd received.
"Everything kind of slowed down and we did what we had to do," Rhodes said.
Allissa died at the scene. Raina was sedated for two days following the accident because of bleeding in the front of her brain. She fractured her skull in two places, has two staples in her right elbow, six stables in her left elbow and may need a skin graft for abrasions to her right leg.
She experiences pressure in her right ear that causes her to temporarily lose her hearing. She also is sensitive to light.
"She used to be able to read a book in a day," said her mother, Jen Rhodes. "Now she can't go two minutes without her head hurting and getting headaches."
Raina said she has a hard time accepting that Allissa is gone. She considered her to be more like her sister than her best friend. She said the two shared a lot of new experiences together, like the first time Raina rode a horse.
"She always had to be doing something, like going outside and playing softball," Raina said. "She was not scared to express her opinion about something."
"If Raina wasn't over there, Allissa was over here," said Kelly Rhodes.
Raina's living room is filled with flowers, balloons and cards from friends and well-wishers. She and her parents said they wanted to thank the community for their support of both their family and the Buchanans. Raina especially wanted to thank the two men who stopped to help at the accident.
"They parked their truck to block me, so if anyone drove up, they would hit the truck and not me," she said, adding, "I can't remember anything (about the accident). That's what I'm really grateful for."