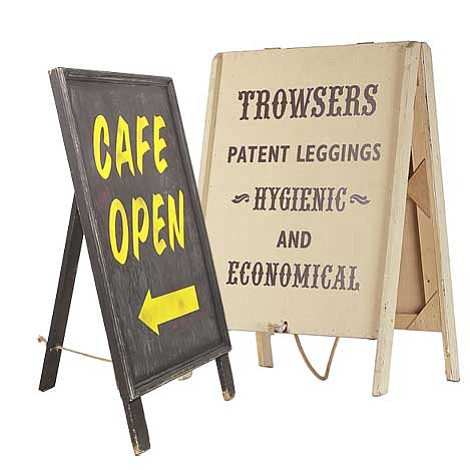 Originally Published: October 13, 2009 6 a.m.
KINGMAN - The city Planning & Zoning Commission is set to take another step toward easing the city sign code this evening following numerous complaints from local business owners.
Commissioners will consider a city-initiated amendment to the sign code that, if adopted, would allow ongoing, on-premises temporary signs year round in any commercial or industrial zone, as well as for non-residential uses in residential zones. The amendment defines such signs as A-frame signs, banners, pennants, wind-driven spinners, balloons, streamers, flags and inflatable structures.
As written, the amendment would not require businesses to seek a permit for any of the above-mentioned signs. The cumulative area for signs would be limited to one square foot of signage for every foot of building frontage adjacent to the street, plus an additional square foot per foot of property frontage, up to a maximum of 150 square feet.
Additionally, signs may be up to 30 feet tall, and must be maintained in safe, presentable condition, with the owner responsible for maintaining, repairing and replacing them.
The proposed amendment also suggests changes to the rules for off-premises temporary signs that would allow anyone to display signs on any private property in town from between 8 a.m. and 8 p.m., so long as they have written permission from the property's owner.
The amendments were agreed upon by members of a committee formed by several local business owners including car dealers, Realtors and a handful of downtown businesses. The business owners formed the committee following a renewed effort earlier this year to enforce the city's existing sign ordinance after the City Council relaxed regulations for temporary signs.
City staff has not put forth an official opinion on the amendment, except to say that it remains concerned with aesthetics, sign clutter and motorists' ability to safely read the amount of signs allowed by the ordinance. The off-premise sign amendment is particularly worrying, since it could open the door for essentially any business to put up signs anywhere in town, so long as they secure the property owner's consent.
Elsewhere on the agenda, commissioners will consider an abandonment and accompanying rezone proposed for an undeveloped subdivision at the southwest corner of Mission Boulevard and Granite Bluffs Drive. Las Vegas-based Rolek Gore Development has submitted a request to abandon 8.83 acres of its proposed Granite Bluffs III subdivision plat due to its location's "very difficult soil conditions" which would make it too costly to install proper utilities and infrastructure.
Following successful approval of the abandonment, Rolek Gore seeks a rezone of 34.54 acres in the same area, incorporating some parts of Granite Bluffs III. The rezone would change the area from residential, single family to residential, multiple family, planned development district.
If approved, the development district, dubbed Quail Mountain Estates, would allow for 155 homes on 10.16 acres, with another 14.04 acres left for open space preservation.
Finally, staff will provide commissioners with an initial report on the eventual creation of an area plan for the Rattlesnake Wash area north of I-40, south of the Kingman airport and east of the proposed Rattlesnake Wash interchange.
The meeting begins at 6 p.m. today in the Council Chambers at 310 N. Fourth St.
For full agenda details, visit www.cityofkingman.gov and look under "Agendas and Minutes."