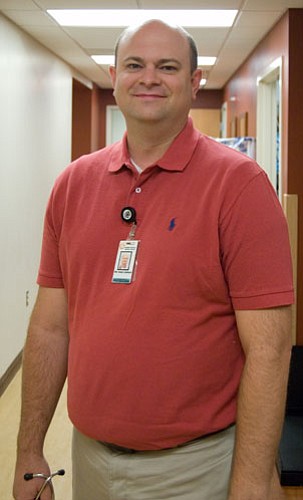 Originally Published: October 16, 2009 6 a.m.
KINGMAN - Dr. Chad Carman has joined the Kingman Regional Medical Center Wound Healing and Hyperbaric Center as the new director. Carman has been with KRMC for four years working in the Emergency Room.
Carman first came to KRMC to do his clinical rotations, before completing his residency in Mt. Clemmons, Mich. Upon completion of his training, Carman and his family came back to Kingman. He chose to return to KRMC to help teach and work with the residents.
Carman joins a team of specialists at the Wound Healing and Hyperbaric Center that includes Dr. Ramesh Tandon, general surgery; Dr. Jakullah Khan, infectious diseases and internal medicine; Dr. Kevin Brown, family medicine; and Dr. Jason Allen, podiatry.
The Wound Healing and Hyperbaric Center is for people with chronic wounds that need advanced treatment to bring them relief and help them heal. The center is equipped with the latest technology and staffed with highly qualified specialists dedicated to providing comprehensive care of non-healing wounds. The specialists will review a patient's general health history and perform special tests to identify the blood and oxygen flow to the wound area. Once test results are returned, the team will develop an individual treatment program.
For more information about the KRMC Wound Healing and Hyperbaric Center, call (928) 681-8555.
The Kingman Hospitals, Inc. Board of Directors has approved the new slate of officers for the Kingman Regional Medical Center medical staff for Fiscal Year 2009 - 2010. The results were as follows:
Chief of Staff, Dr. Vinod K. Singh; Vice Chief of Staff, Dr. Robert Matheny; Secretary Treasurer, Dr. Mahmood Khan; and Past Chief of Staff, Dr. Michael Ward.
Kingman Regional Medical Center would like to thank the outgoing medical staff leadership and congratulate the new medical staff leadership as they assume their new roles.