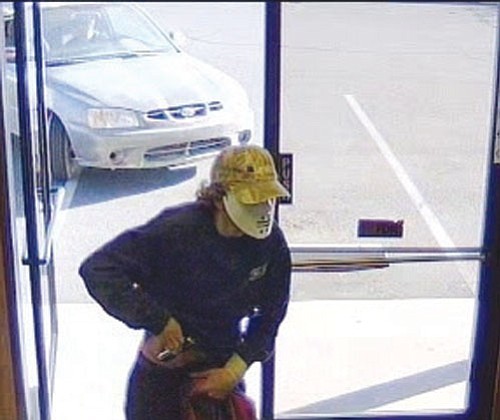 Originally Published: October 20, 2009 6 a.m.
GOLDEN VALLEY - Police have released a description of a suspect in the armed robbery of a Golden Valley bank.
Surveillance cameras caught the suspect on tape brandishing a gun after he entered the National Bank of Arizona on Highway 68 just after 4 p.m. Friday. The suspect wore a mask to hide his identity but left in a getaway car with distinctive red rims.
The suspect made off with an undisclosed amount of cash. No one was hurt.
The suspect was seen leaving the area northbound on Hope Road in a grey or silver colored "import type" passenger vehicle with red rims. A second person was driving the car but police don't know if that subject was a man or woman. The suspect is described as a white male, about 5-foot-8 with a slender build, brown hair and wearing a long sleeve shirt and black pants.
A reward up to $500 has been offered for information leading to the arrest and conviction of the person(s) responsible for the robbery.
Anyone with information is asked to call the Mohave County Sheriff's Office at (928) 753-0753 or Silent Witness at (928) 753-1234.
More like this story