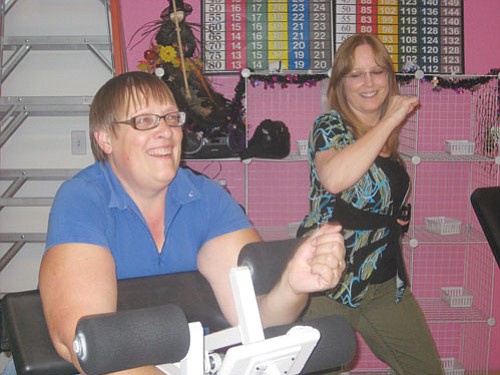 Originally Published: October 21, 2009 6 a.m.
KINGMAN - A four-year competition is down to the final two competitors.
Vicki Roehrick and Gretchen Watkins are the last women standing in an exercise competition sponsored by Curves. The idea is simple enough: Who can go the longest exercising at least three times a week, no excuses.
The competition started with 147 women on Aug. 22, 2005.
"I don't think we ever thought it would take this long," said Wanda Richardson, co-owner of the Curves on N. Moore Street.
Richardson said the contest was a way to generate enthusiasm at the gym. Curves is a 30-minute fitness center for women.
The winner of the competition gets a free one-year membership, a value of $408.
No excuses are accepted in the competition. There are no sick days or vacation exemptions. The women are expected to work out at least three times a week no matter the circumstances.
The competition was down to three women for the last year until one woman had to drop out because of an illness.
Roehrick and Watkins said their husbands already know to look for Curves locations when planning vacations. Roehrick exercised at the most northern Curves location in North America during a trip to Alaska.
Roehrick said she has noticed a dramatic increase in her muscle tone since working out. Watkins said her energy levels have increased - something she'll need for a grandson born three weeks ago.
"Once he starts running, Grandma's got to be right behind," she said.
The fitness center will start a new competition as soon as this one is over, Richardson said, but when that will be is anyone's guess.
"Can't we just both win?" Roehrick asked.