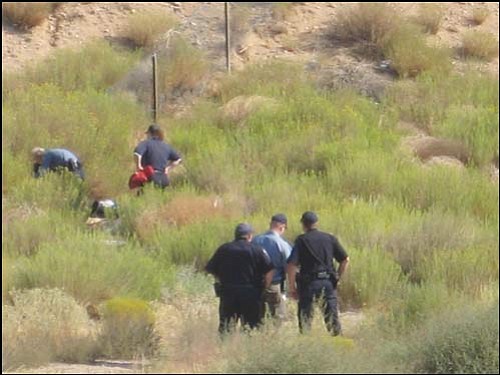 Originally Published: September 4, 2009 6 a.m.
KINGMAN - An Arizona Department of Transportation worker made a gruesome discovery while pulling weeds along Interstate 40 Thursday morning.
A dead body was found below the railroad overpass on the south side of eastbound I-40 around 8:30 a.m. at what appeared to be a mini-encampment off of the tracks.
The body was identified later that afternoon as Carlos Sai, who turned 48 two days ago. A backpack found with the body contained several prescription medications, which helped police track down the man's identity. Sgt. Bob Fisk with the Kingman Police Department said the body appeared to have been there anywhere from three to five days based on decomposition.
The body was found face down in a seated position. Police couldn't initially tell if the body was male or female, but a man's boot was found at the scene, along with several other items, including scattered bottles of alcohol.
No immediate cause of death was found at the scene, but Fisk said foul play has been ruled out.