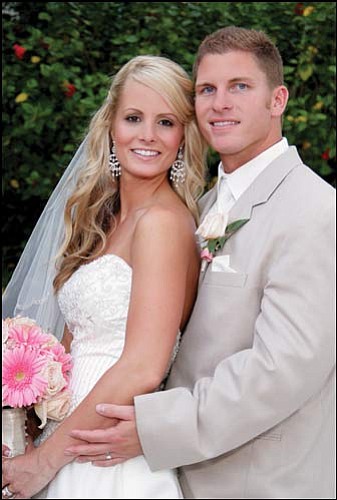 Originally Published: September 6, 2009 6 a.m.
Melissa Anne Mullane and Kyle Gerard VonTersch were united in marriage on Saturday, June 6, 2009, at Arizona Grand Resort in Phoenix.
The bride's parents are Dr. Scott and Shawna Mullane of Kingman. The groom's parents are Larry and Margaret VonTersch and Geri VonTersch of Omaha, Neb.
The evening ceremony took place outside on the Palm Walk with a cocktail hour and reception immediately following the ceremony. Pastor Steve Bergeson (formerly of Kingman) officiated the wedding.
Maid of honor was Lanae Mullane, sister of the bride. Bridesmaids were Manisha Moharir, Nancy Lane, Christy Spivey, Cassie Tomlin and Nicole Jacobs. Best man was Kurt VonTersch, brother of the groom. Groomsmen were Brian Jackson, David Kanne, Nate Pile, Chris McDonald and Anthony Pasternak. Ushers were Reese Spivey, Brian Clark and Tim Anderson. Flower girls were Madison and Abbey Craig, nieces of the groom. Ringbearer was Joey Craig, nephew of the groom. Steven Mullane, brother of the bride, was greeter.
The couple spent a week in Puerto Vallarta, Mexico, for their honeymoon before returning to their home in Phoenix.
Melissa is a graduate of Kingman High School, Class of 2002, and a 2007 graduate of Arizona State University. She is currently in her third year of teaching at Greenway Middle School.
Kyle is a 1999 graduate of Catholic Skutt Preparatory High School and a 2004 graduate of the University of Nebraska. He is currently employed at Midway Chevrolet as a sales manager.