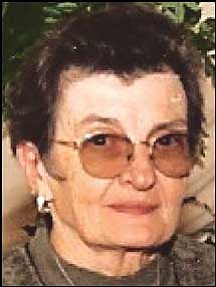 Originally Published: September 7, 2009 6 a.m.
Ola "Lou" Smith Pangburn passed on Tuesday, Sept. 1, 2009. Born on Aug. 20, 1930, in Mingus, Texas, Lou (Mom) had a long and full life. She was blessed to have loved and married Snuffy (Charles) as a teen and to have given life to their sons, Charles "Glen" and Bobby John. After Snuffy's death, Alfred (Pop), also a widower and Snuffy's best friend whom Lou had known since 1955, became even closer to Lou and they married in 1991. To have had such great love in her life, not once but twice, was to be cherished. After Mom retired from Pacific Bell and Pop from Pacific Gas and Electric, they permanently moved to Kingman to fulfill their retirement dream. Recently, Mom and Pop moved into their new house on their 43 acres, which was Mom's goal. Their friends were wonderful and very helpful during these Golden Years.
Lou was preceded in death by her husband, "Snuffy" Charles Smith, and son, Bobby John Smith. Nana is survived by her devoted, loving husband, Alfred "Pop" Pangburn; brother, Harry Spratt; son, Charles "Glen" Smith; daughter-in-law, Lori; son, Tommy Pangburn; daughter-in-law, Randi; grandchildren, Jeremiah, Tamara (fiancé Andrew), Vanessa (fiancé Michael), Joshua (wife Stephanie), Jake and Emily; and great-grandson, Cooper; and her long-time dear friends, Shirley "Sam" Moorhead and Joe Conrey.
She is also survived by her many friends whom she loved and thought of as family. Nana has loved everyone dearly and is at peace now.
In lieu of flowers (as she was allergic), please make donations to the National Multiple Sclerosis Society, your local hospice, or if you would like a more personal level, you may send a rock, paver, wind chime or other personalized outdoor ornament to decorate Nana Lou's memorial in Kingman. You know how she loved her knick-knacks.