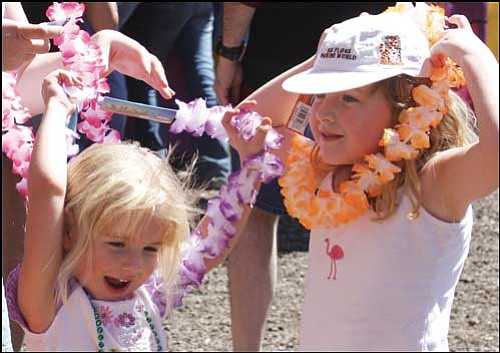 Originally Published: September 8, 2009 6 a.m.
KINGMAN - It's time for cotton candy, greasy french fries and overstuffed prizes. The Mohave County Fair is Thursday through Sunday. This year's fair promises to be full of music, food, rides and other entertainment once again.
According the Mohave County Fair Association's Web site, the music this year includes country singer Amy Scruggs, the Original Cornell Gunter Coasters, the Roe Family bluegrass band and the band American Made.
Other entertainment, according to the Web site, includes the Kid and Nic Variety Show, knife thrower Larry Lisewski, Chaz Marquette and his unicycle comedy show, the Great Raguzi's magic, hypnotist Joe DeCarlo and Joe Thompson, the wandering Balloon Buffoon.
As of Friday, an entertainment schedule had not yet been set, according to the Fair Association.
Local talent also will be on display. For example, Kingman Dance Factory performs at 6 p.m. Saturday.
There will also be plenty of local 4-H animals, food, clothing and other exhibits, a dog show, horse competitions and exhibits from local businesses.
The fair is open from 10 a.m. to 10 p.m. Thursday through Saturday and from 10 a.m. to 6 p.m. Sunday. Entrance tickets are $5 for adults, $2 for children ages 4 to 11 and seniors over the age of 62. Children under the age of 3 are admitted free. Parking is $1.
Entrance tickets do not include the price for rides. All-day ride tickets cost about $25. However, the local 4-H Interstate Exchange Club is selling all-day ride tickets for $18 through today. Call Linda at (928) 757-8098, visit a Mission Bank branch or e-mail noslol56_warmc@yahoo.co with phone number and the number of tickets wanted.