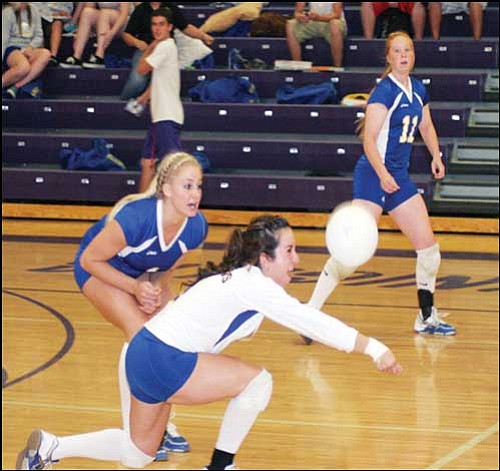 Originally Published: September 10, 2009 6 a.m.
KINGMAN - Falling back on past behaviors cost the Kingman High volleyball team Tuesday in Lake Havasu as the Knights took a 25-16, 25-19, 19-25, 19-25, 15-10 win from the Bulldogs. KHS came out flat and could never completely recover in the loss.
"We lost the match," KHS coach Kasie Juelfs said. "Havasu did not beat us. We had so many errors that Havasu just had to play steady and smart, and that's what they did."
Passing and hitting errors were the biggest culprits for KHS (2-1), which suffered its first loss of the season. The Bulldogs' passing percentage was just 62 percent with 23 errors, and though the team had 31 kills, they also had 35 miscues.
"If we can't fix the problem and the errors, we will continue to beat ourselves," Juelfs said. "I hope the loss was a lesson learned. We need to step it up and practice harder."
Senior setter Rachelle Bullen had 25 assists for the match and made 20-of-21 serves. The Bulldogs as a team made 87 percent of their serves.
Lindsey Reed and Kyra Williams led KHS with 16 digs, and Reed had 12 kills. Dominique Hale added four block-kills for the Bulldogs.
KHS will try to use Saturday's Mary Jo Goldey Invitational Tournament as an opportunity to right the ship. The Bulldogs could face Havasu (3-2) for the third time this season at the Havasu-hosted tournament.
"We have a talented group of individuals, but volleyball is a team sport," Juelfs said. "The key to our success will be learning to play together."