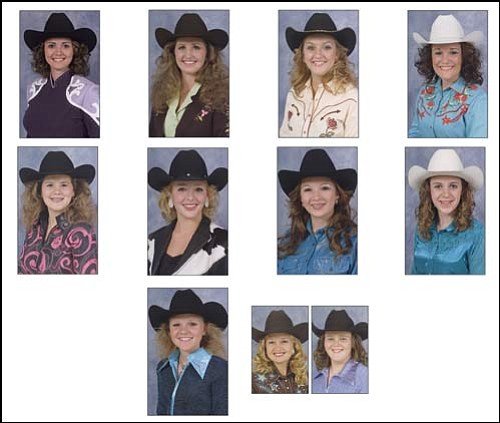 Originally Published: September 13, 2009 6 a.m.
KINGMAN - The Andy Devine Days Rodeo is just around the corner, and that means it's time for a new rodeo royalty court.
Nine young ladies are vying for the title of Princess and Queen. Queens are those who are between the ages of 16 and 23, while Princesses are those ages 12 to 15.
This year's candidates were introduced to the public Saturday at the Mohave County Fair and will compete in a horsemanship competition next Saturday, where they will be judged on horsemanship pattern, hot lap, flag run and interview.
Candidates will also give short speeches at a luncheon later that day. Questions will center on rodeo, equine science, current events and life ambitions.
This year's group has plenty of ambition. In fact, most hope to use their experience with animals to jump into a career in veterinary and animal science.
The new Queen and Princess will be crowned during a special ceremony at 1 p.m. Sept. 27, at the county fairgrounds.
The candidates for Queen include Kaitlyn Del Monaco, Cassidy Gillooly, Nancy Sue Ponds and Amy Walker.
Kaitlyn Del Monaco is on the honor roll at Kingman Academy of Learning High School in Kingman. Kaitlyn said she uses her softball skills to help teach T-ball.
The 16-year-old hopes to become a crash crew firefighter, and she said that she wants to become rodeo royalty to "be a part of the greatest show on dirt."
Cassidy Gillooly of Golden Valley is a graduate of Grapevine High School and received a $300 scholarship to pursue her goal of becoming a nurse or veterinarian assistant.
The 19-year-old taught herself sign language and said she hopes to become Rodeo Queen to teach other girls and carry on the traditions of the rodeo.
Nancy Sue Ponds graduated from Kingman High School in 2008 and plans to attend college to become an X-ray technician.
The 19-year-old worked at Kingman Animal Hospital and was given the "Star Chapter Award" in her agriculture class. She was also active in FFA, 4-H and livestock judging during high school.
Amy Walker attends Kingman High School and is active in volleyball and softball. She was honored for her grades as well as being a D.A.R.E program role model. The 16-year-old volunteered at the Kingman Academy Kids Carnival for the last two years, along with helping cleanup at the Mohave County Fair.
The candidates for Princess are Bryce Jones, Jamie Rose, Tiffanee Smith, Lindsey Soles and Alexis Timm.
Bryce Jones is on the honor roll at Kingman Academy of Learning Middle School. She was a state qualifier for the breaststroke and butterfly in swimming and would like to attend Northern Arizona University to become a veterinarian.
The 13-year-old enjoys riding her horse, swimming and volleyball.
Jamie Rose attends Kingman High School, where she is enrolled in honors and advance placement courses.
She participates in 4-H horse, rabbit and dog projects and said one of her ambitions in life is to stop animal abuse and be "an honest, kind person in everything I do."
The 14-year-old is working toward an academic scholarship and hopes to go to veterinary school.
Tiffanee Smith attends Kingman Academy of Learning High School where she is on the honor roll and has two years perfect attendance.
The 15-year-old volunteers with cleanup crews at the Mohave County Fair and volunteers at the Kingman Gardens.
She hopes to become a lawyer.
Lindsey Soles attends Kingman High School and raises market swine for 4-H.
The 14-year-old participates in barrel racing clinics and wants to become a veterinarian to help animals.
Alexis Timm is an honor roll student at Kingman High School and serves on the student council.
She has competed in several gymkhanas and won multiple buckles, money and other prizes.
The 13-year-old enjoys camping, boating and hopes to become a professional photographer.
Cristyn Peacock, 18, (above left) is the outgoing Queen. Jessica Head, 15, is the ougoing Princess.
Cristyn is the daughter of Calven and Carla Peacock. Jessica is the daughter of Terry and Nancy Head.
This year's crowning ceremony is on Sept. 27.
More like this story