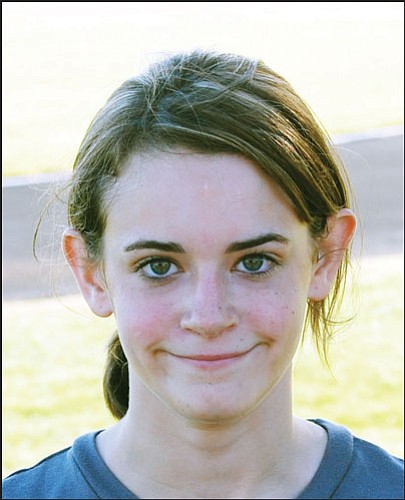 Originally Published: September 16, 2009 6 a.m.
KINGMAN - Sometimes it's best to be baptized by fire to find out one's mettle, and that's what the Kingman High cross country teams did Saturday at the Ray Wherley Invitational at Prescott. It was a race with some of the state's best teams, and the inexperienced Bulldogs learned a few things about themselves.
"It was a powerhouse meet," KHS coach Anne Bathauer said. "Some of the fastest teams in the state were there. It was an eye opener."
Freshman Paige Cardiff once again dazzled for the girls squad. Cardiff finished seventh overall when she ran the 2.5-mile course in 18:39 against 26 other teams and 116 runners. Surprisingly, there weren't any Class 5A runners ahead of Cardiff.
"I'm anxious to see what she'll do," Bathauer said. "That's because she doesn't know what she can do."
It was only Cardiff's second cross country race and she's still learning the intricacies behind the strategy of the sport.
"I learned you really can't go too hard at the beginning," Cardiff said. "You'll lose your energy for the finish. I didn't expect to do as well as I did."
Bathauer said Cardiff has begun to practice with the boys because, as she gets into shape, Cardiff needs to be pushed harder. The freshman will run up against the same runners who beat her in Prescott in the Four Corners Invitational at Flagstaff Saturday.
"I'll see how Paige does in Flagstaff, and that will tell me a lot," Bathauer said. "She's a competitor. She very well could get those girls this weekend."
"I'm nervous to race against them again," Cardiff said.The girls team finished in 12th place. It was a good starting point for a team that had only one girl, sophomore Heather Paulsteiner, who had run the course before.
Sophomore Teyshia Solano finished 91st, and was followed by senior Myreel Pease (92), Paulsteiner (101) and freshman Megan Yellowman (104).
"We just need our strong five," Bathauer said. "I had to run some girls who normally would run JV, but I wanted to field a full team."
Cardiff and Pease have already qualified for the season-ending state meet.
The boys team came in 19th place and Bathauer was pleased because sophomore David Haun, one of KHS' top runners, didn't compete for the Bulldogs.
Junior Jesse Peterson led the Bulldogs in 86th place, followed by junior Jesus Lozoya (126), freshman Preston Hammond (128), senior Dominic Tapia (136) and freshman Shaun Wootten (137).
Bathauer said Hammond and Wooten continue to impress as freshman, and Peterson was off his game a bit Saturday.
"Shaun is getting better every week he runs," Bathauer said. "I'm not sure if Jesse may have went out hard too early."
Peterson and Haun had already qualified for the state meet, and Lozoya did so at the Prescott meet.
The work ethic and learning curve of both squads has Bathauer believing that they have bigger things ahead of them.
"Once we get race experience, we'll get better," Bathauer said. "They work very hard, so there's nowhere to go but up."