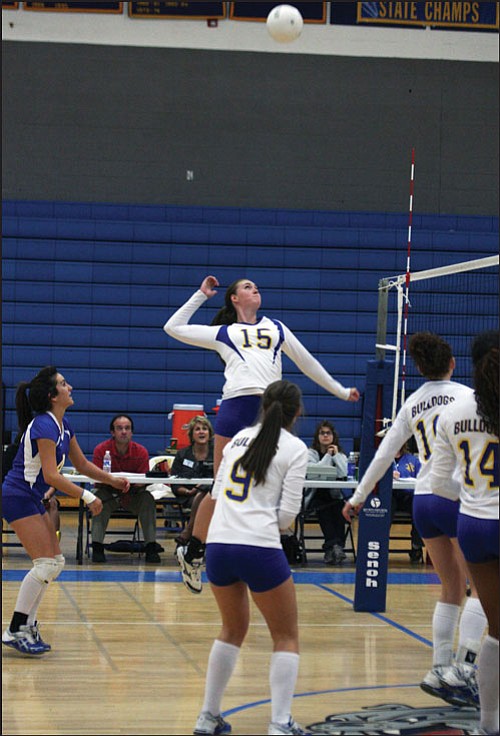 Originally Published: September 17, 2009 6 a.m.
KINGMAN - It was a businesslike performance by the Kingman High volleyball team Tuesday, as the Bulldogs dispensed of Goldwater 25-15, 25-16, 25-11 to open the Northwest Region season at KHS. KHS came through to answer one of coach Kasie Juelfs' concerns.
"We could have come out flat, but we made our passes," Juelfs said. "I've seen us struggle against teams like Goldwater, but the team tried to run things. They could have gotten bored, but they didn't."
It was a match of hot starts for KHS (1-0, 3-1). The Bulldogs jumped out to 4-0, 6-0 and 3-0 leads in each game.
Goldwater (0-1, 0-4) fought back in Game 1 to narrow the lead to 6-5, but KHS went on a 10-2 run and cruised to the win. After the six-point lead in Game 2, Goldwater could get no closer than five. The Bulldogs put together a 13-1 run in the final game to close out the match.
Junior Katy Ballenger made her first start of the season for the Bulldogs. The 6-foot-1-inch outside-middle hitter transferred to KHS from Oklahoma over the summer and was a late addition to the squad.
"I was a little nervous," Ballenger said. "I didn't even know I was starting until I heard my name announced."
"Katy has been working her way into the lineup," Juelfs said. "She had a great tournament in (Lake) Havasu. She's finding her place on the team."
Ballenger finished with four kills, seven blocks and forced Goldwater to commit many unforced errors.
"Boy, she's tall," KHS captain Rachelle Bullen said. "We're happy she's on the team. She doesn't even have to jump to block a shot - she just stands there."
KHS amassed 26 kills for the match, led by Lindsey Reed's nine. Tesla Morgan smashed five, and Dominique Hale added three.
The Bulldogs raised their passing percentage to 71 percent, while they committed only nine passing errors. KHS had 17 aces with Bullen's five and Reed added four.
Bullen also had 10 assists and - in her first match of the year - senior Hillary Acer set four. Acer has been recovering from a hip injury, which still bothers her.
"It feels really good to be back," Acer said. "I've missed it. I'm trying to play through the pain. I'm still going to physical therapy and am trying to get back into volleyball shape."
The Bulldogs were in Glendale to face Mountain Ridge (0-3) Wednesday. Results were not available by press time for KHS' first trip to the valley.
"Hopefully, we won't have any bus lag," Bullen said. "We'll give it all we've got and see what happens."