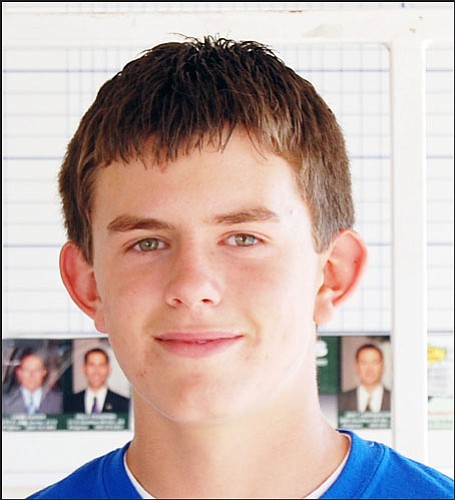 Originally Published: September 18, 2009 6 a.m.
KINGMAN - The season is still relatively young, but the matches are no less important. And for the Kingman High boys golf team, it was another critical win Tuesday at Glendale, as the Bulldogs bested Northwest Region opponent Phoenix Sandra Day O'Connor by nine strokes, 200-209. It was the lowest score of the year for KHS.
"I think it was our best match," KHS coach Guy Hartnett said. "Austin (Sammeli) really improved, and Jon (Casson) didn't let a not-so-great start bother him."
After Casson landed on the green in two on the 403-yard par-4 first hole, he three-putted for bogey. However, it was his only bogey of the day, and he took medalist honors with a 1-over-par 37.
"I missed a lot of birdie putts," Casson said. "I wasn't missing them badly - they lipped out of the cup. I could have been way under par."
Kenny Duford was one back of Casson with a 38, Sammeli shot 40, Michael Olivas came in at 41, and Benny DeBaca finished with 44 to round out the Bulldogs' scoring.
Sammeli, a freshman, once again saw a drop in his score, but he is his own harshest critic.
"A 40 is not bad, but it's not very good either," Sammeli said. "That's why I'm here (at practice) - to fix what I did wrong Tuesday."
Sammeli said he had two bad holes when his tee shots went awry, and those shots were reflected on his scorecard.
"My scores are going down, and I do feel like I'm improving a little," he said. "I feel like as the season goes along, my scores will come down."
Sammeli took advantage of the two long par-3s on the front nine of The 500 Club Golf Course when he birdied both.
"They definitely boosted my confidence," he said.
"Austin just needs to play more and gain that experience," Hartnett said.
KHS (3-4, 2-1) also defeated non-region Glendale Copper Canyon, which shot a 264. The Bulldogs faced region foe Surprise Valley Vista Thursday at Cerbat Cliffs Golf Course, but results were not available by press time. Lake Havasu was also present to make it a three-team match.
"I'm excited to see how Valley Vista plays," Casson said.
More like this story