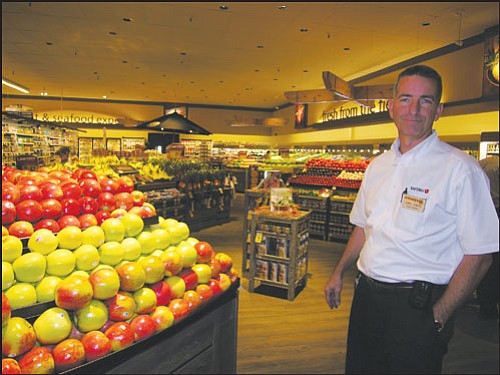 Originally Published: September 18, 2009 6 a.m.
KINGMAN - It's been a longer summer than most for customers of the Safeway store at 3125 Stockton Hill Road. As the store updated its layout over the past several months, customers have had to pardon quite a bit of dust while negotiating their carts around subcontractors and searching the rearranged shelves for their favorite products.
But now the renovations are complete, and Safeway is preparing to welcome customers all over again with a grand reopening set for Saturday.
Before that happens, however, Safeway is inviting customers to a preview party for the renovated store, dubbed "A Taste of Safeway," taking place from 4 to 8 p.m. today.
"'Taste of Safeway' gives you a sneak preview of what Safeway is about as far as what we have to offer in our store," said store manager Carl Gibbs.
"We'll have free samples available throughout the store in all the departments, and that'll be for the next two weeks, actually.
"We'll be doing samples daily."
Gibbs said customers will be able to sample the store's signature Rancher's Reserve beef and Primo Taglio meats from the newly remodeled meat and full-service deli departments.
They will also be able to take advantage of the new olive and hot soup bars, expanded natural and organic produce sections and a new Starbucks Coffee kiosk.
During today's event, Gibbs said customers will receive 10 percent off all purchases of $50 or more. He added that, following Saturday's grand opening, the Safeway Rancher's Reserve cooking trailer will park out front and cook free New York strip steaks for customers to sample.
"They are just phenomenal," Gibbs said. "They melt in your mouth the way this guy cooks them."
From 8 a.m. to 8 p.m. Saturday, Gibbs said the store will hold a sale on specially marked items, including Quilted Northern toilet paper, 5-pound bags of Safeway brand sugar, dozen cartons of Lucerne eggs and Nabisco premium saltine crackers. Customers will also be able to obtain coupon books specific to the event with hundreds of dollars in savings inside.
"In addition to that, Saturday, Sunday and Monday, the computer system will randomly select people to win a $25 Safeway gift card, and we'll be giving away 300 of those," Gibbs said.
But Kingman's other Safeway store, at 3970 Stockton Hill Road, won't be free of the weekend's festivities.
Saturday will also mark the grand opening of that store's Seattle's Best Coffee kiosk, which has replaced the Starbucks location there. According to Safeway's director of public affairs, Cathy Cloos, Kingman's is the first Safeway store in the country to install a Seattle's Best.
"It's the first Seattle's Best for Safeway, so it's pretty exciting stuff," Cloos said.
"And since it's a grand opening, every customer's first cup is free."
Today's "Taste of Safeway" event and tomorrow's grand openings are both open to the public, and all members of the community are invited to participate. For more information, call (928) 753-2943.